With all 14 first-past-the-post seats in the London assembly counted on Friday afternoon, Labour won nine of them and the ruling Conservative party won five.
Labour candidate Sadiq Khan won 1,310,143 votes against 994,614 for his main rival Zac Goldsmith of the Conservative party. Green Party candidate Sian Barry came in third with 150,673 votes. That breaks down to a 13.6 percent margin of victory for the Labour candidate.
Turnout in London for the assembly elections was 45.6 percent - an increase of 7.6 percent on the last elections in 2012.
By now the basic facts of Sadiq Khan's personal background are well-rehearsed. He grew up on a council estate in the unglamorous south London district of Tooting, one of eight children. His parents were recent Pakistani immigrants, his father a bus driver.
Today, Khan becomes mayor of London, controlling a 16-billion-pound (20-billion-euros; $23-billion) budget, and deciding on the capital's housing, planning and transport policy.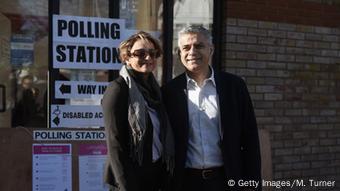 Khan and his wife Saadiya after they voted at a polling station
According to analysts, no European politician with the exception of the French president has a greater personal mandate. If the present government sticks to its promise of devolving power away from central government, the office of London mayor could gain greater powers still over the next term.
Khan's has been a career of firsts. In 2009, when Labour was still in government and Khan was appointed Transport Minister, he became the first Muslim to be appointed to the Privy Council and to attend cabinet meetings. Now, he becomes the first Muslim mayor not only of London but of any major European city.
'Repulsive' campaign against Khan
It is an issue that has been brought to the forefront during a sometimes unpleasant mayoral campaign. Zac Goldsmith, the Conservative candidate for mayor and Khan's main rival, fought a campaign described by Conservative commentator Peter Osborne as "the most repulsive I have ever seen as a political reporter."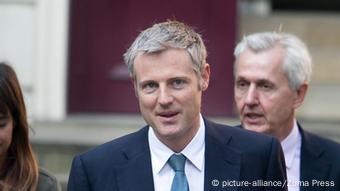 Dirty campaign: Conservative candidate Goldsmith claimed Khan was "a real danger to London"
Goldsmith's leaflets often used words such as "radical" to describe Khan, evocative language given continent-wide tensions around Muslim communities. Goldsmith said that he viewed Khan as "a real danger to London."
His campaign also sent ethnically targeted leaflets to voters with Indian surnames, claiming erroneously that Khan did not support India and would tax their family jewelry.
These tactics were unsuccessful in London, a city where, as the 2011 census showed, less than 50 percent of the population is white British.
"Despite the dirt thrown at Khan by Zac Goldsmith's campaign, London has elected a Muslim mayor," James Bloodworth, columnist and author of "The Myth of Meritocracy" told DW. "This is a wonderful testament to the capital - anti-Muslim bigotry is now a minority pursuit."
London's advocate
Goldsmith and other members of the Conservative party also sought to claim that Khan has links with extremists, largely centered around people he defended during his time as a human rights lawyer or met as Tooting MP. When Prime Minister David Cameron used parliamentary privilege to claim (erroneously) that Khan had links to an Islamic State supporter, Labour MPs shouted "racist" from across the bench.
From 1994 until entering parliament in 2005, Khan was a solicitor focusing on human rights, a past he evoked in his pledge that he would be London's "advocate" as mayor.
He became an MP - for his home borough of Tooting - in 2005. He opposed Tony Blair on the Iraq war. But he later voted in favor of an amendment to the terrorism bill granting 42 days detention without charge of terrorism suspects, a measure heavily criticized by Liberty, the civil liberties group which Khan chaired for three years prior to becoming an MP.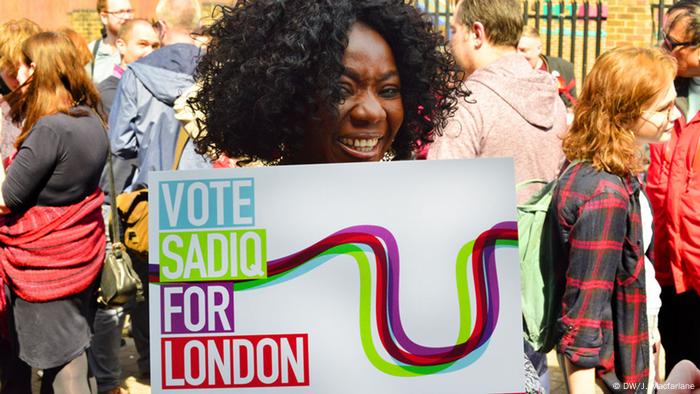 Khan has pledged rent controls and to freeze public transport fares - flashpoint issues for many Londoners
His critics within Labour claim that votes such as this are evidence of careerism and a lack of integrity. "Sadiq was for Heathrow expansion in 2008; he was for it when he was transport minister in 2009. Zac Goldsmith has announced he is running, and suddenly he's against it," David Lammy, a British Labour politician who was Khan's rival as Labour candidate, told DW.
Ray of hope for Labour
In his campaign for the London mayoralty, Khan has focused on clear policy objectives. He has pledged rent controls, a flashpoint issue in a city where the average private tenant pays two-thirds of their monthly salary in rent. He also pledged to freeze public transport fares - some of the highest in the world - for the duration of his four-year term.
The London mayoral contest happened concurrently with local elections elsewhere in the UK. Overall, it was not a good night for the Labour Party, which slipped into third place in Scotland - behind the Scottish National Party and the Conservatives - for the first time since 1910. Khan's victory in London was a ray of hope for the party.
"It's clearly a boost to the party to win London, but it also goes to show that leftist policies are not necessarily irreconcilable with electoral success - if Labour fields the right candidate," Bloodworth told DW. "Those in the Labour Party not happy with the current direction of travel under [Labour leader] Jeremy Corbyn will, at some point, need to win over the left-leaning membership of the party."
"The success of Khan can show the way for Labour's moderates," he added.