Search operations continued in the icy waters off Russia's eastern coast early Monday as scores remain missing after an oil rig sunk near the Sakhalin island in the Sea of Okhotsk.
"Until all the people are found the rescue operation will not be concluded," said Natalya Salkina, a spokeswoman for federal transport investigators in Russia's far eastern city of Khabarovsk.
The Russian Emergencies Ministry (EMERCOM), which usually coordinates rescue operations, declined to confirm reports coming from the rig operator that a raft had been spotted with people on it.
Of the 67 people on the rig, 14 were saved by vessels accompanying the rig, but 6-meter (20 ft) high waves and temperatures of minus 7 degrees Celsius (19 Fahrenheit) hindered rescue efforts. Rescuers said 16 bodies had been found.
Negligence suspected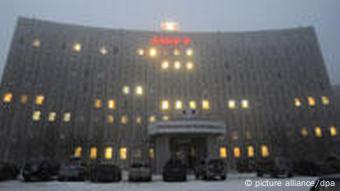 Kolskaya headquarters said a raft with people on it had been spotted
EMERCOM said in a statement that the rig had turned over as it was being towed by a tugboat and ice breaker from the Kamchatka peninsula towards Sakhalin Island amid high winds and temperatures of minus 17 degrees Celsius.
"[The] main suspected reason for the accident was a violation of safety regulations by transporting the platform with no account for weather conditions, as there was a strong storm in the area," a Russian investigative committee said in a statement.
The Kolskoye rig was engaged in shelf exploration for Gazflot, a subsidiary of Russia's gas monopoly Gazprom, but had not been doing drilling work, so an oil spill is considered unlikely.´
Author: Holly Fox (AFP, AP, dpa)
Editor: Martin Kuebler