Thousands of supporters of Honduran President Juan Orlando Hernandez packed the National Stadium in the capital Tegucigalpa on Saturday as he took the oath to begin his second term in office.
Calling for unity, he told a special session of Congress that had been arranged at the venue that he would "carry out a process of reconciliation among all Hondurans."
Ceremony and protest
Just a few hundreds meters away, Hernandez was given a stark reminder of the bitter opposition to his re-election, as the noisy supporters of his political opponents were prevented from getting close to the inauguration.
Read more: Banning child marriage, Honduras leads Americas and EU
Honduras remains in political crisis following the 49-year-old head of state's win in the November 26 election, which his opponents claim he stole. Hernandez stood for re-election despite a constitutional ban on presidents serving more than one term.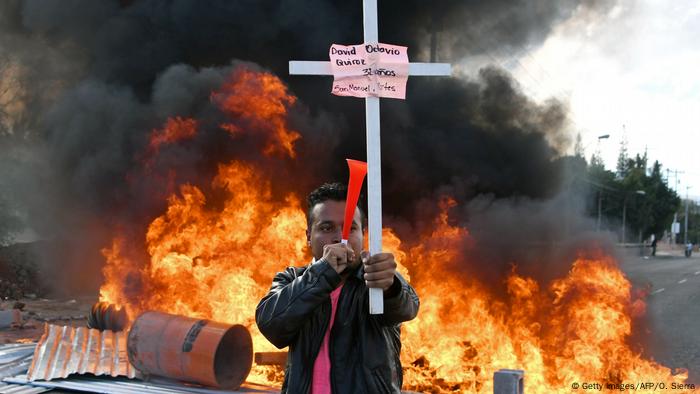 Opponents of Hernandez have vowed to maintain their protest movement until he is forced from office
During the vote count, which lasted three weeks and often interrupted, Hernandez looked set to be swept from office before a sudden shift in the results took victory away from his center-left rival, Salvador Nasralla.
The disputed election result sparked violent protests that killed more than 30 people.
International observers complained of irregularities and Honduras' neighbors in the Organization of American States (OAS) called for the election to be re-run, but eventually said they would work with Hernandez' government.
The result, which was eventually ratified by the Honduran electoral tribunal, has also received Washington's backing.
Read more: Opinion: Honduras crisis was long in the making
Tear gas used on protesters
On Saturday, soldiers and police deployed tear gas to block thousands of demonstrators from reaching the national stadium to protest the inauguration.
Several rings of soldiers and police, brought in from around the country, protected the venue.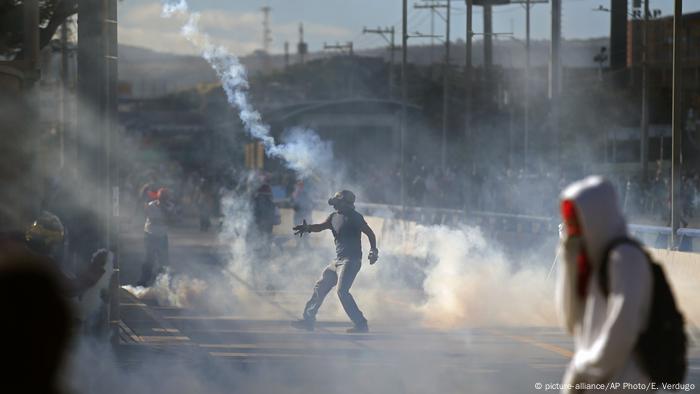 Protesters tried but failed to get close to the National Stadium, where Hernandez' swearing in ceremony took place
Saturday's opposition rally concluded a week of protests that included Nasralla, on Friday evening, leading a convoy of hundreds of honking vehicles carrying his flag-waving supporters through the streets of the capital.
The opposition leader continued to call for new elections on Saturday, insisting that the protest movement would "force the dictator to step down."
Seen as a business-friendly president who has boosted economic growth, Hernandez has pledged to maintain a hardline strategy in his fight against the country's gangs, which has helped curb the murder rate, despite human rights groups' allegations of abuses.
Much of the impoverished Central American country is terrorized by gang violence, driving tens of thousands of people a year to flee abroad, including to the US.
mm/es (AFP, AP, dpa, Reuters)