Born to a Jewish father, Alfred Dubs was one of 669 children rescued from Nazi-occupied Czechoslovakia in 1939 on trains out of Prague organized by British stockbroker Sir Nicholas Winton. He was six when he made the 48-hour journey and was reunited with first his father, then his mother. He lost many friends and neighbors to the concentration camps.
Based on his own experiences as a "refugee" Lord Dubs, a former Labour MP, said today's Germany had become "the conscience of Europe" on account of the high number of refugees they had accepted.
By contrast, the 84-year-old peer said, the British government had acted "dishonestly" in quietly scrapping the amendment he pioneered to immigration legislation, the original version of which committed it to accepting 3,000 child refugees. A version of the so-called Dubs Amendment passed without the specific target, and in February the government said it was pulling out of the scheme after accepting only 350.
On Wednesday Immigration Minister Robert Goodwill told MPs that Britain would take a further 130 unaccompanied child refugees from France, Italy and Greece after admitting that "an administrative error" had resulted in 130 places pledged by local authority not being accounted for.
The revised total of 480 child refugees is still well below Dubs' original target. The peer's hopes of getting Britain to accept more child refugees rest with a challenge in the High Court that accuses the government of failing to properly implement the Dubs Amendment. Either through the amendment, or through the so-called Dublin regulation [The regulation is an EU law that determines the EU member state responsible for examining an application for asylum seekers international protection under the Geneva Convention within the EU - the ed.] which enables child refugees to join relatives here, the government should identify as soon as possible those eligible to come and bring them, he said.
"The government is failing in its task and has no justification for not doing it," Dubs said. He pointed to "bureaucratic muck-ups" such as applications being rejected on grounds of spelling mistakes that cropped up when transliterating Arabic names into English.
Read: May doubles down on immigration control in Brexit deal
Off the agenda
Dubs told an audience at London's Chatham House think tank on Wednesday that Brexit had taken the issue of child refugees "off the headlines," and that the June general election could cause the issue to become "lost, or distorted into an anti-refugee mood."
He added that a Conservative return to power in the forthcoming elections could make raising the issue even more difficult. "After the election, the government may have a bigger majority," he said. "The reason the amendment got through was because they didn't have a large majority and enough people were willing to vote against them."
He said a second consequence of a Conservative victory could be the presence of new and inexperienced MPs "who have not been exposed to the arguments," he said.
Read: Calais refugees adapt to life in the UK
"Shame on Europe"
Dubs, who insists he does not campaign on account of his background, also criticized the government for introducing restrictions that barred all but Syrian and Sudanese refugees from the Dubs scheme, which "undermined the purpose" of the amendment.
Having visited the Jungle camp at Calais before it was cleared last October, he told DW it was a "shame on Europe that people should have to live in those circumstances."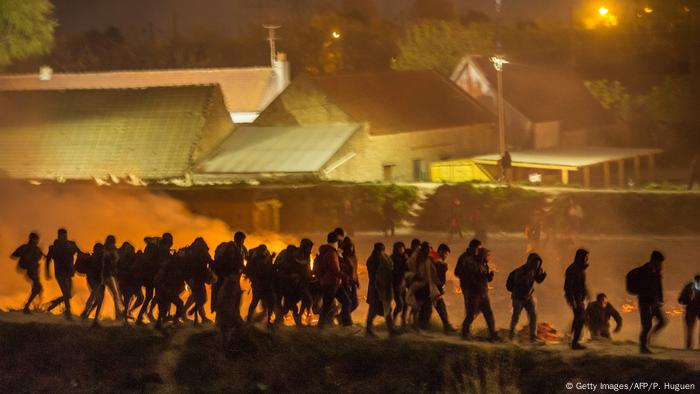 Lord Dubs says living conditions for refugees are scandalous
Margot Bernard, a child protection officer at the charity L'Auberge des Migrants in northern France told DW this week that around 75 minors remained unaccounted for since the destruction of the Grande Synthe camp outside Dunkirk, and many were believed to be on the streets of Paris, Lille or Calais, where police were allegedly teargassing migrants' sleeping bags to prevent their re-use.
Read: Dunkirk refugee camp is the stuff of nightmares
In Britain, Lord Dubs said, public sympathy for refugees had been undermined by hostility toward economic migrants voiced by right-wing politicians and media. Confusing the two issues "is a very poisonous argument," he said, adding that it was necessary to keep reminding people of what a genuine refugee looked like. For example, accepting a 17-year-old Albanian who arrives in Calais hoping to settle in the UK weakens the case for taking genuine refugees.
Germany's moral lead
Describing himself as "a passionate Remainer" regarding Britain's membership of the EU, he insisted that leaving the EU would not reduce migration to the UK. "There are too many services we depend upon where we can't do without [foreign workers]."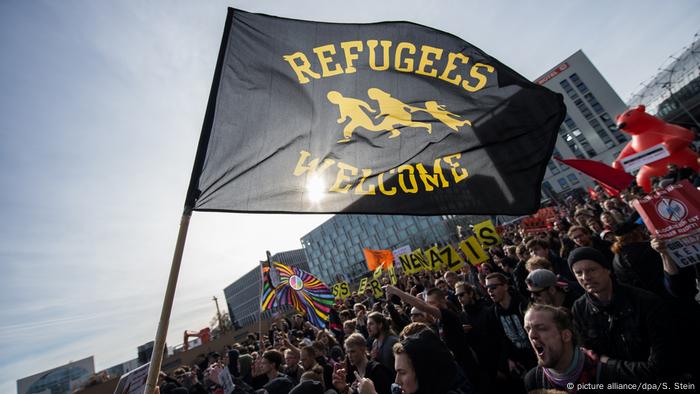 Lord Dubs singled out Germany for its moral leadership in the refugee crisis
Lord Dubs praised German's moral lead, while acknowledging that its large intake would help meet the country's need for labor. However, he insisted that each EU country should take their "fair share" of refugees regardless of religious affiliation, and was critical of the Czech and Slovak Republics and Poland. "They seem to say that the refugees are not their concern and they only want Christians, which I think is a terrible travesty of what the EU is about and what Europe is about."
Dubs admitted he has no magic bullet regarding the refugee crisis, except to discourage young people from countries such as Nigeria and the Gambia from risking their lives trying to reach Europe, to keep encouraging Turkey ("even if we don't like Mr Erdogan's policies") to stick to the refugee agreement in as humane a way as possible. He also suggested community-level integration programs, and cited a Syrian refugee in south London who had begun teaching boys cricket on Sunday mornings.
The refugee crisis is "the most serious challenge we have," he said. Above all, he said, "we've got to keep trying."