Taleb is wearing a sleeveless t-shirt, his well-trained body hidden beneath oversized adidas jogging pants and tennis shoes. His joints are like jelly as he cartwheels on a whim. Without using his hands, the 19-year-old puts his head to the ground and pulls a headspin.
Taleb comes every day from his home in the Paris suburb of La Place, to the hip hop center in the heart of Paris. When asked if he likes it, he nods.
"Before they opened at the beginning of April, I had to dance in the 19th Arrondissement. That was a 50 minute commute," he says. La Place in Les Halles is only 15 minutes away via the RER, the suburban commuter train.
Then he asks if I could photograph him with another dancer, a man already attempting to hold himself up horizontally with just one hand.
Hip hop center in newly revitalized Parisian halls
That day, 30 young people are dancing in a barren room, more functional than fancy. There's a bar and a few sofas to relax in.
"Before Les Halles was renovated, a lot of tourists were afraid to come here," says Julie Ducher, who works for the organization SemPariSeine and has been guiding visitors through the new halls since their opening on April 5, 2016.
"There was a lot of criminal behavior, especially pickpocketing."
The city of Paris invested nearly a billion Euros in creating both a new image and new architecture for Les Halles. "The cost of the construction became more expensive as it was difficult to proceed with the renovations while the shops remained open and the RER trains ran through," said Ducher. Intensive safety upgrades were likewise required.
Architect Patrick Berger put a glass fixture on the old warehouse development from the 1970s and created a prestige project. "The new heart of Paris," as is it called in the city of Paris's marketing language.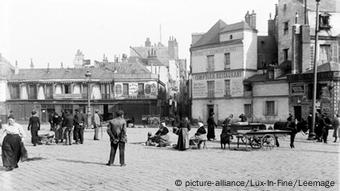 Originally a food market, Les Halles was once called "the belly of Paris"
From the belly to the heart of the city
In the 19th century, writer Emile Zola ordained the market quarter in the center of Paris, "the belly of Paris," a designation that didn't come only from the fact that a large proportion of the food that was sold to Parisians came from the market halls there.
The area had a questionable reputation in Zola's time and every attempt to change that failed. In the 1970s, the old market halls were torn down to make way for a gigantic shopping center. One of the largest interchanges in Paris for trains traveling underground lies beneath: three suburban railway trains and nine metro lines come together at "Chatelet-Les Halles."
The Parisians have undertaken a lot in order to help give the area a new image: Les Halles were demolished and five years on, a new building has arisen out of its ashes, a structure known as La Canopée. The structure is said to look reminiscent of a tree canopy, with its more than 18,000 glass panels but reminds of a high-tech spaceship with two wings that landed smack dab in the heart of Paris.
A shopping center with cultural offerings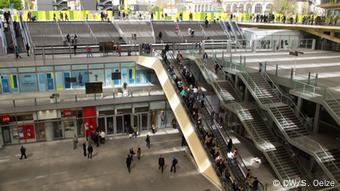 A shopping mall rose out of the market's ashes in the 1970s
Beside the spectacular architecture and large amount of shopping on offer, Les Halles was also set up as a symbol of culture and integration. The choice to have a hip hop center here is no coincidence. The labyrinthian hallways of Les Halles were a meeting point for youths from the suburbs for years - a thorn in the eye of the city officials. After years of unrest in the suburbs, it appears acceptance and integration may now be in the works.
"At the beginning, La Place wasn't wanted politically. Convincing was a real struggle," says Jean-Marc Mougeout. It paid off, though. The meaning of hip hop as a valuable cultural contribution was understood at the end.
La Place is what you might think of as Mougeout's "baby." The 45-year-old director has worked on the project since its inception. At the beginning the center was only supposed to be 200 square meters; since then it's grown to more than 1400. And at the moment only the dance floor and the bar are open.
"Dancers can come here without having to sign up or ask any questions," he said, explaining the concept. The halls are an open space, comparable to a street.
"That was important for us, as we wanted to stay true to the spontaneous nature of hip hop," he said.
Hip hop for everyone
The hip hop center prefers to think of itself as neither a sort of youth meet-up nor as a social pedagogical institution but instead as a platform for hip hop dancers who want to professionalize their talents. Two concert halls can be reached through a turnstile; one of the halls has room for up to 400 audience members.
Jean-Marc Mougeout likewise proudly presents eight brand new audio recording studios, three DJ mixing areas, a studio, co-working spaces and exhibit areas for graffiti artists.
"Hip hop is not a subculture for us; it's a culture that deserves to be taken seriously," says Mougeout. At La Place, one can produce songs and learn choreographies but also network.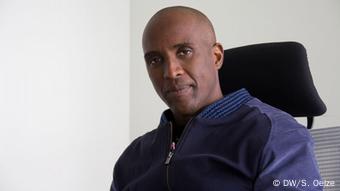 Jean-Marc Mougeout helped change political minds about the project
Everyone interested in hip hop can come to La Place, whether the youths from the suburbs or young adults from the wealthier districts near the Eiffel Tower and the Champs-Élysées. Hip hop is for everyone.
"It used to be that only the blacks or the Arabs rapped but today everyone does, even the young bourgeoisie in Paris," explains Mougeout, who was the head of the French music festival L'Original for a decade.
"Hip hop isn't a minority culture anymore as it had once been. The same goes for graffiti and street art."
Grand opening in September
Not everything is ready yet. La Place won't be finished completely until September. For hip hopper Alan, though, the new center has already become an important address.
"The metro alleyways at Chatelet-Les Halles used to be our stage. I'm happy now that La Place exists. It's easy to reach and I can meet up with other hip hoppers here," says the 17-year-old who'd like to be a professional dancer one day.