Nearly a week after Prime Minister Narendra Modi reached out to India's Christian community to assure them of his government's commitment to "complete freedom of faith," the chief of the country's most prominent Hindu group Rashtriya Swayamsewak Sangh's (RSS), Mohan Bhagwat, stirred a controversy by claiming that Mother Teresa's work was motivated by a desire to convert Indians to Christianity.
The RSS, which presents itself as a non-political cultural organization, is the ideological parent of India's ruling Bharatiya Janata Party (BJP), and is widely believed to exercise significant influence over the affairs of the BJP. In fact, PM Modi himself worked for many years as a propagandist for the RSS, before entering the BJP in the late 1980s.
The RSS is accused of endangering India's secularism by promoting Hindu nationalism and causing a rift between India's many religious groups. The recent remarks by Bhagwat questioning Mother Teresa's intentions come against the backdrop of heightened sensitivity over religious freedom in the South Asian nation, following a spate of attacks targeting churches in recent months.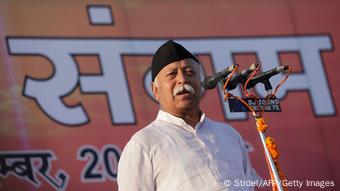 Mother Teresa's work was motivated by a desire to convert Indians to Christianity, said Bhagwat
National outrage
While inaugurating an orphanage in the western state of Rajasthan, Bhagwat minced no words when he said: "Here we will not provide service like that rendered by Mother Teresa. It is possible that her kind of work was good but there was a motive behind that service. It was to convert those she served to Christianity."
The barbed comment undoubtedly sparked off outrage, with politicians, Christian groups, social activists and ordinary folk coming down hard on Bhagwat for his "ill-informed" and "repugnant" remarks. Micro-blogging site Twitter went viral to weigh in on the debate and #RSSQuestionsTeresa was the top-trending hashtag.
"There were 745 Mother Teresa homes across the world and about 19 in Kolkata. Over 90 percent of all those who are treated at these homes are non-Christians. Bhagwat is definitely misinformed," said Sunita Kumar, a spokesperson for the Missionaries of Charity and a close confidant of the Mother for many years.
The Delhi Catholic Archdiocese said the Christian community was in a state of shock over the Hindu leader's comment and pointed out that that it was time PM Modi acted on his assurance of not tolerating any incitation to religious hatred. Delhi Catholic Archdiocese spokesperson Father Savarimuthu Sankar criticized Bhagwat for being "ill-informed" and "narrow-minded."
The political class was not far behind in their criticism with newly elected Delhi chief minister Arvind Kejriwal tweeting: "I worked with Mother Teresa for a few months at Nirmal Hriday ashram in Kolkata. She was a noble soul. Pl spare her." Sachin Pilot, a former minister of the Congress party wrote Bhagwat's remarks "reflected narrow-mindedness and fanaticism" and was an "insult to all those who have faith in humanity and human service."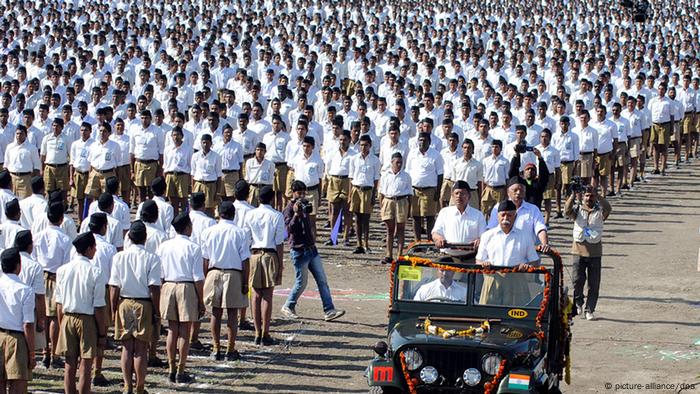 The RSS presents itself as a non-political cultural organization
A deliberate design?
The RSS and its other affiliate fringe elements such as the Vishwa Hindu Parishad (or World Hindu Council) and the hardline group Bajrang Dal have been in the news of late for their controversial programs like "ghar wapsi" (home-coming) where the outfits have converted hundreds of Christians and even Muslims back to Hinduism.
These religious conversions, which have happened in states like Gujarat, Uttar Pradesh and Kerala with much fanfare, have sparked debate over the agenda of the BJP-led government. They have also raised questions on whether the administration tacitly supported these groups.
"It was only after US President Barack Obama talked of religious tolerance on his recent visit to India that Modi was forced to break his deafening silence on religious intolerance and assure communities that his government would be fair," Sanjay Jha of the opposition Congress party told DW.
'Attempt to polarize'
The victory of the BJP in last year's general election triggered fears among minorities that incidents of communal violence would raise. Analysts say that with a BJP-led government in office, Hindu hardline groups have been emboldened to act more freely than in earlier years.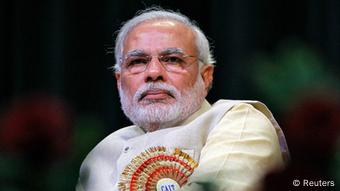 PM Modi was once a full-time RSS worker
Moreover, many leaders of these fringe groups have reportedly gone on to say that in the next five years, they wanted to fulfil the dream of a "Hindu Rashtra" (or a Hindu Nation) by reconverting all Muslims and Christians in the country.
"The RSS wants to show who is boss and is in a hurry to push to its agenda. Despite Modi's assurance, Bhagwat's statement was a test balloon and a further attempt to polarize the country on religious lines," Rakesh Batabyal, a historian at Delhi's Jawaharlal Nehru University, told DW.
Prime Minister Modi who rode to power on the slogan of development and good governance would need to rein in hardline elements as otherwise the cracks in India's pluralistic society would only widen, experts underline.