A sudden spurt in applications for asylum in Germany has been linked to an alleged travel scam taking place in the Balkans.
According to the head of the German government's asylum department, people from Serbia and Macedonia are being encouraged to buy one-way bus tickets to Germany and given "empty promises" that they will find work and money once they get there.
"We suspect there has been an organized abuse of the asylum procedure, whereby people in Macedonia and Serbia have organized bus trips into Germany," said Michael Kleinhans, head of the asylum department at the Federal Office for Migration and Refugees.
"They tell people that in Germany you can earn money and it's worth making the trip as they'll easily cover their costs," Kleinhans told Deutsche Welle.
A bus ticket costs between 200 and 400 euros ($267- $534), but unscrupulous travel agents sell the tickets claiming the passengers can get a free return journey from the German government once in Germany.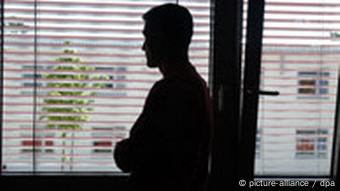 Asylum seekers must prove they fled persecution to stay in Germany
Instead, their applications are swiftly rejected and the applicants are bussed back to the Balkans.
'A stark increase'
The Federal Office for Migration and Refugees keeps monthly records of the number of asylum seekers and their countries of origin. For most of 2010, the majority of refugees came from Afghanistan and Iraq.
However, from September through to November there was a sharp rise in asylum applicants from the Balkans. In November the highest number of applications came from Serbians - 1,159 - followed by Macedonians, with 512. The two groups made up over a third of the total applicants that month, "a stark increase," Kleinhans said.
Serbia, Macedonian and Montenegran passport holders have been able to travel into the EU without a visa since December 2009. But the rules only allow them to come as tourists and do not allow them to work legally in the bloc.
Similar scheme in Belgium and Sweden
It's not the first time a scam like this has been attempted. Following the change to the visa rules, several hundred Serbs, Macedonians and Montenegrins tried to leave their countries in search of greener pastures in the EU earlier in 2010.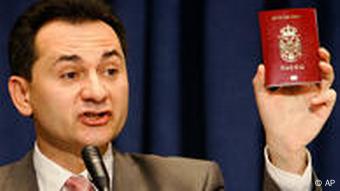 To travel to the EU, Serbians need a new biometric passport
Deutsche Welle's Balkans correspondent, Mark Lowen, said that Belgium and Sweden "bore the brunt of the exodus" at the time, with 700 to 800 people arriving in each country.
The applications were rejected, and busloads of failed asylum seekers were sent back to the Balkans.
"Those attempting to leave were predominantly ethnic Albanians - who tend to come from the poorer areas of Serbia and Macedonia," he explained. "Those who tried to make the journey painted a very desperate picture of poverty, and many feel discriminated against."
No tolerance
EU officials have made it clear that they will not tolerate this so-called 'phoney asylum.'
Kleinhans from the Interior Ministry's asylum department said it was important to let people know that it "really isn't worth making the trip to Germany."
EU visa restrictions have recently been lifted for citizens of Bosnia and Albania, however, they have been strongly warned against falsely applying for asylum in the bloc.
Officials from the European Commission have threatened that if similar attempts are made, visa-free travel will be revoked.
Author: Catherine Bolsover
Editor: Nancy Isenson