"No, no – that's not a photo of my younger brother," jokes Tarek al-Wazir, outside the German Green Party headquarters in Berlin. Behind him stands a huge billboard sporting his photoshopped image and the slogan "Tarek statt GroKo," or "Tarek instead of GroKo" (the abbreviation of Germany's "grand coalition" government, made up of Chancellor Angela Merkel's conservatives (CDU), their Bavarian sister party (CSU) and the Social Democrats (SPD)).
"We're warning voters against voting for the big tent parties. Vote Greens." It's one of the Green Party's main campaign messages ahead of the Hesse state election on October 28: avoid a repeat of what's going on at federal level.
Merkel's conservatives have been the strongest party in Hesse since 1987 and currently govern as the major coalition party with the Greens. But that may be about to change.
Read more: Record-low support for Angela Merkel's government
Greens at historic highs
Tired after months of infighting over migration policy and personnel debates in Germany's federal government, voters are reacting at the polls on a state level. Cashing in on votes due to the failings of the conservatives and the Social Democrats is the Green Party.
Barely two weeks since Merkel's conservative brothers in Bavaria suffered historic losses in the southern state's election, the potential ousting of Hesse State Premier and close Merkel ally Volker Bouffier this week would be a huge blow to Merkel's credibility as party leader, while yet another setback in the polls would once again question the legitimacy of Merkel's waning "GroKo" federal government.
Should Merkel's party indeed lose the Hesse state premiership, the success of the Greens, some 500 km away from Berlin, could come at the price of the federal government.
Touted to replace Bouffier, should the conservatives lose the state premiership, is leader of the Hesse Green party campaign and current Hesse Economy Minister al-Wazir.
"Tarek is one of the most intelligent politicians of my generation in the Greens," Robert Habeck, Green Party co-leader, tells DW. "I think Tarek is capable of anything."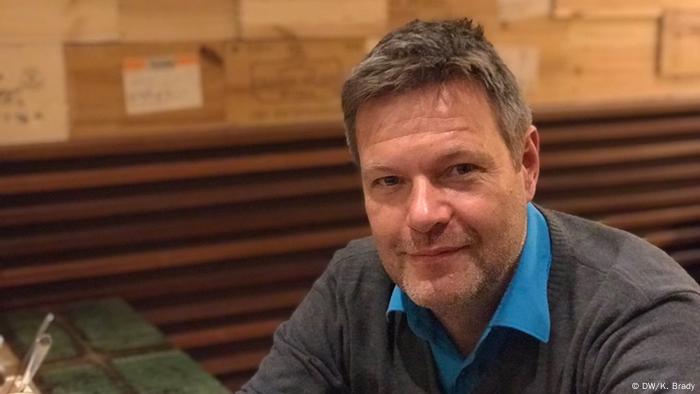 German Green Party co-leader Robert Habeck
Right now, the question is whether al-Wazir is capable of turning the Greens' record highs in the polls into a reality. But despite the Greens reaching the dizzying new heights of 20-22 percent in recent weeks – both at national and state level – the 47-year-old is wary of letting the high altitude up in the polls get the better of him.
"I've been doing this a long time," he says in Berlin, with a wave of his hand. "Long enough to know that dispositions don't mean votes. That's why we won't stop campaigning till the very end."
'Down-to-earth'
Born in 1971 to a German mother and Yemeni father, al-Wazir was politicized from a young age, with his mother taking him to demonstrations. He grew up in Offenbach, minutes away from Germany's financial hub, Frankfurt. For two years, at the age of 14, he moved to the Yemeni capital, Sanaa, to where his father had already returned.
Asked by a German journalist in Berlin this week, about his "experience of migration" in Germany, it was clear that his family history was not about to play a role in his election campaign.
Looking as if he might ignore the question entirely, al-Wazir pursed his lips before launching into his answer. Something he's apt at, whether stood behind the safety of a podium or chatting milk prices with voters over a cappuccino and cake, he's able to take control of the situation. His heavy doses of sarcasm avoid any confusion with arrogance.
"I'll tell you about my 'experience of migration,'" he said, as a room full of journalists readjusted in their seats at the Green Party HQ.
"When I was 14, I went to Yemen. For two years. I didn't know the place. I couldn't speak the language. That's my migration experience. Yes, under Germany's criterium, I have migration roots. That means, I have at least one parent who came from a different country after 1955. But so do [German MEP] David McAllister and [German Justice Minister] Katharina Barley (SPD)."
Both of the mentioned politicians have one British parent. For first-time voter Bruno Sanzenbacher, however, al-Wazir's family history is something that has motivated the 18-year-old in politics.
"Al-Wazir encompasses what it means to come from Offenbach, better than anyone else round here," the 18-year-old told DW.
"He's the symbol for Offenbach, that says anyone can make it. Even when they're not called 'Müller' like every other person."
Read more: German population with immigrant background reaches new peak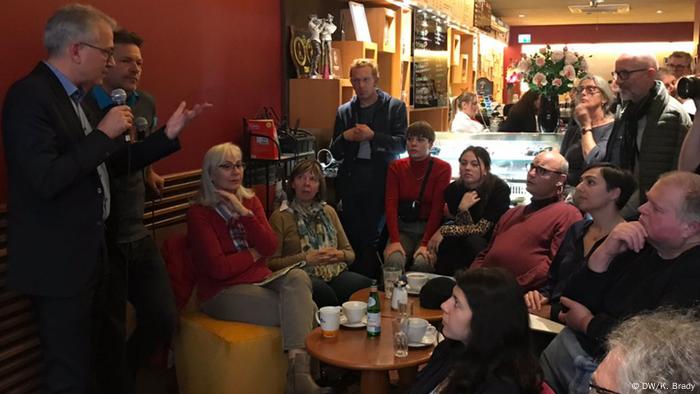 'Coffee with Tarek and Robert': Voters in Tarek Al-Wazir's hometown voice their concerns
Deep Green roots
In 1989, before even graduating high school to study political science in Frankfurt, al-Wazir became a member of the Green Party. Soon after, he became chairperson of the party's youth wing and in 1995 was first voted in to Hesse's state parliament. And there he's stayed, where most of the time he prefers to stay out of federal debates and close to local politics.
"He's very close to the voters. Very down-to-earth. That's what makes him appealing," said one local in Offenbach.
At a "Coffee with Tarek and Robert" campaign event, al-Wazir's ranking as Hesse's favorite politician was confirmed with the dozens of people spilling out onto the pavement of in front of a packed café. Inside, voters wait to have their concerns addressed by al-Wazir and the German Green Party co-leader: education, transport, affordable housing, milk prices. Not once was the issue that has dominated national German politics for the past three years addressed: migration.
'Greens profiting from government failings'
Addressing the issues at hand and not being "wrapped up in personnel debates" contributes to the Green Party's strong position in opinion polls ahead of Sunday's election, al-Wazir said.
"The Greens are certainly profiting from the fact that the CDU/CSU and SPD, as a grand coalition, aren't painting a good picture. But the Greens aren't only doing well because of the weakness of others. People know what we stand for and that we also take responsibility for the content of our program," he told DW.
Read more: Germany's political parties – what you need to know
Indeed, the Hesse Greens are doing well, and have come out the other side of a five-year coalition with the conservatives better off than anyone might have expected.

But the conservative hand wasn't an easy one for al-Wazir to hold, particularly after the CDU's targeted 2008 campaign poster. "Stop the communists!" read the placard, targeting the lead Green Party, SPD and Left Party candidates – including al-Wazir.
No coalition campaigns, just party campaigns
Proving the skeptics wrong, the "black-green" coalition made it through the last five years – much to the delight, no doubt, of Merkel, who would be happy to see such a coalition at federal level. And the incumbent conservative State Premier Bouffier has made no secret of the fact that he'd like to continue with the current coalition in Hesse.
But al-Wazir refuses to speculate. Prompted by the stinging memory of failed coalition talks with the Left Party and SPD back in 2008, al-Wazir has been keen to ensure that the Greens take their own path on the election campaign.
"First, we need an election result. Then we can see what could function mathematically, and then what would work when it comes to policy," he said in Berlin this week.
"There are no coalition campaigns, just party campaigns."