Helmut Newton, who fled the Nazis in 1938, said while he never missed Germany, he never got over his homesickness for Berlin. Now the world's arguably most famous photographer is coming home.
Newton, 83, died on January 23 in Los Angeles when he apparently lost control of his car and it crashed into a wall. He will be laid to rest on Wednesday in the Friedenau cemetery in his native Schöneberg district just four plots away from where screen legend and fellow Berliner, Marlene Dietrich, is buried.
"I'm looking forward to seeing all our old friends again who are coming in from all over," June Newton, the photographer's widow, told Welt am Sonntag newspaper. "But to me, Berlin will never again be what it once was."
June Newton, who turns 81 on Wednesday and is a photographer in her own right, has planned her husband's funeral in detail, saying she wants a ceremony that reflects her husband's zest for life. She wants no pastor, no mournful dirges and no religious ritual. Instead, she has called for bells instead of organs, bright flowers and a joyous celebration of Newton's long life.
"Although he was over 80, he simply never grew old," she said.
German Chancellor Gerhard Schröder and Berlin Mayor Klaus Wowereit are expected to attend the burial and a memorial event afterwards in Berlin's city hall.
Early love for the camera
The avant-garde photographer, who was both renowned and scorned for his controversial photographs of nude women, was born Helmut Neustädter to well-off Jewish parents in Berlin in 1920. As a child, Newton preferred taking pictures to doing school work, having bought his first Kodak camera at the age of twelve. At sixteen, he started an apprenticeship with Elsie Simon, a well-known Berlin photographer better known as Yva. He continued working with her until Hitler's pogroms against the Jews forced him to flee in 1938.
After a stop in Singapore and a stint in the Australian army, Helmut Neustädter settled in Melbourne, opened a photography studio, and changed his last name to Newton. There he met and married actress June Brunell, who remained his partner for 55 years until his death.
Newton began doing fashion photography and soon began shooting for the biggest players in the fashion world: Vogue, Elle, Marie-Claire and Queen. His provocative and stark style set the standard for the time.
But Newton is best known for his shots of nude women, whom he photographed in a both alluring and distant way with the result being a kind of cold eroticism that was seen as alternatively empowering and degrading to women, depending on the viewer. Some female critics, including well-known German feminist Alice Schwarzer, decried Newton's nude women photographs as "sexist to the point of racist and fascist." His detractors gave him the monikers "King of Kink" and "Prince of Porn."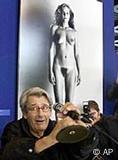 Newton in front of one of his "Big Nudes"
Despite the criticism, Newton achieved world-wide fame with his women. His series of black-and-white oversized prints, entitled "Big Nudes," became his best-known work and individual prints have fetched up to $100,000 at auction.
Newton collection comes to Berlin
Two days after Newton is finally put to rest, more than 1,000 of his works are going on display in the new Helmut Newton Foundation museum that's opening up near the Zoo train station in western Berlin.
In October 2003, Newton bequeathed the works in his archive to his native city, along with the money for the renovation of the museum building where they will be kept. The building, formerly an officers' mess and art library, was one of the last buildings the 18-year-old Newton saw when he fled the Nazis.
"I'm very proud that my photographs are going back to the city where I was born," Newton said at the time he made the gift.
The Newton collection is meant to serve as the foundation of a significant photography center in Berlin. Besides the works by both Helmut and June Newton, who works under the name Alice Springs, the center will include photographs from the Prussia Foundation collection, which concentrates on Prussian photography between 1870 and 1910, fine-arts photography in German speaking regions around 1900 and fashion photography.