Large columns of unmarked tanks, howitzers and troop carriers were spotted moving through eastern Ukraine in territory held by pro-Russian separatists, the Organization for Security and Cooperation in Europe (OSCE) reported.
The movements all occurred within the rebel-held "Donetsk People's Republic (DPR)," in eastern Ukraine. Heavy shelling was also observed, according to the OSCE.
"In the city of Donetsk and in Makeevka (25km north-east of Donetsk city), in "DPR" -controlled territory, the [Special Monitoring Mission (SMM)] observed convoys of heavy weapons and tanks. At the time of reporting, the SMM could hear heavy, outgoing shelling to the north and northwest of the city's outskirts," a statement from the OSCE read.
The columns included 19 large unmarked "Kamaz" type trucks towing 122mm howitzers and carrying military personnel in dark green uniforms without insignias. More than a dozen troop carriers and six small fuel tankers were also part of the convoy.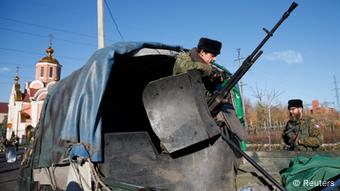 Kyiv and the West have long accused Russia of aiding rebels in eastern Ukraine.
Nine tanks were also observed roughly 7 kilometers southwest of the Donetsk city center, moving west.
The Swiss Foreign Minister and OSCE Chairperson-in-Office Didier Burkhalter said he was "very concerned about a resurgence of violence in the eastern regions of Ukraine and about activities leading to more fragility instead of further stabilization of the situation."
The OSCE comments come a day after the Ukrainian military reportedly spotted a large number of tanks and heavy artillery crossing from Russia into territory currently under the control of rebel fighters in eastern Ukraine.
Kyiv and the West suspect Russia of propping up separatists in eastern Ukraine, though Russia has denied being involved in the fighting. Ukraine reported eight soldiers killed and 17 wounded Saturday in heavy fighting around Donetsk international airport and other embattled zones.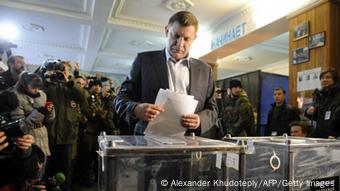 Separatist-held regions of eastern Ukraine recently held their own elections
The latest developments threaten a further breakdown of a ceasefire between Ukrainian security forces and pro-Russian separatists that was agreed to in September and barely observed since. The OSCE urged all sides to "act responsibly" and to do all in their power to respect the terms of the ceasefire, which stipulates the pullback of heavy weaponry.
"It is decisive that all sides strictly observe the commitments made in the framework of the Minsk protocol and memorandum and stay away from acts which could lead to new escalation," Burkhalter said.
Ukraine recently held parliamentary elections effectively severing ties with Russia and ushering in a pro-Western government. Rebel-held areas of eastern Ukraine responded by holding their own elections in the so-called People's Republics of Donetsk and Luhansk, though Kyiv and the West have refused to recognize the results of those polls.
bw/jm (AFP, AP)