Around 800 people - including German Chancellor Angela Merkel and former US Secretary of State James Baker - were in attendance Sunday at the World Conference Center in Bonn, the former capital of West Germany before Berlin became the capital after German unification in 1990.
"Genscher was a German patriot and a committed European. He was a blessing for our country," German President Joachim Gauck said. "We can hardly imagine Germany without Hans-Dietrich Genscher."
"His work for peace and freedom, the leitmotif of his political work. He was equally passionate for German unity and for the unity of Europe," Gauck said.
Genscher was Germany's longest-serving foreign minister and a key figure of postwar German and European political history.
James Baker, the US secretary of state under President George Bush from 1988-1992, told those in attendance that Genscher's contribution to German unification had been indispensable. "As we say in Texas, he could be as tough as the leather on a cowboy's boot," Baker said.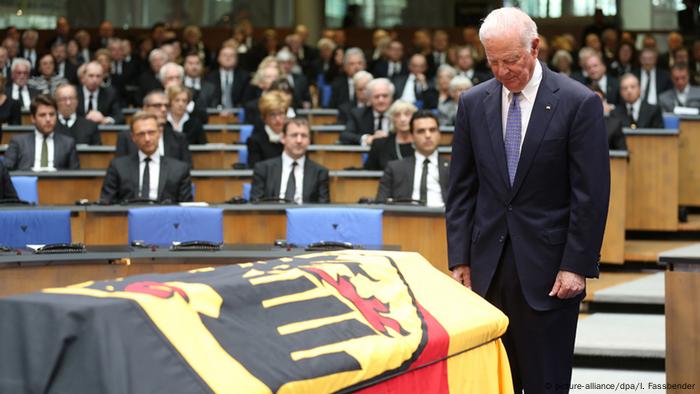 Genscher served as foreign minister, first of West Germany and then of the reunited nation, for 18 years under chancellors Helmut Schmidt and Helmut Kohl.
Current Foreign Minister Frank-Walter Steinmeier said "overcoming the division of Germany and the split in Europe was his life's work."
Center stage as cracks in the Iron Curtain opened up in 1989, after the Berlin Wall fell on November 9, 1989, Genscher was at the forefront of efforts to unite East and West Germany - a goal achieved on October 3, 1990.
Lessons from the past
"European unity is the answer to the mistakes of the Germans and of European history," Genscher said as he announced his retirement from parliament in 1998. "It is the answer to a terrible world war. These reasons stand even today."
Genscher was also clear about the lessons Germany had learned from the horrors of its Nazi past.
"I have always considered it my generation's responsibility to prevent a repetition of the events of the period from 1933-1945 in Germany, committed by Germany," he wrote in his memoir. "That task will go on in perpetuity. We must prevent even a relapse into a new nationalism."
Genscher was born March 21, 1927, in Reideburg, near the eastern city of Halle. Drafted into the regular German army in the final months of World War Two, he was captured by American forces in 1945 and imprisoned in Britain. After the war, he studied law at Leipzig University, but became disenchanted with communist East Germany and escaped to the West in 1952.
jbh/jlw (AP, dpa)