In Hanover, those with a soft spot for robots can easily make a find these days. At the largest industrial fair in the world, our steel colleagues, who gradually take over more tasks with increasingly elegant moves, abound. Limited to simple hand movements in the past, today's robots are capable of a lot more: They communicate among each other and they serve as mobile assistants.
During her two-hour tour, German Chancellor Merkel examined scores of the new specimen. Her conclusion: "Industry 4.0 is not merely a project; it is being put into practice - and now it is also offered in compact solutions."
Handling without a manual
Although many things appear quite playful here in Hanover, for instance a robot challenging attendees to a ping pong match, the background is serious, for this new phenomenon called Industry 4.0 is now actually being implemented in factories. Hanover fair chief Jochen Köckler knows why: "The iPhone would have never asserted itself so rapidly if it hadn't been for someone who said: 'We don't need a manual anymore.' We are starting to see this kind of thinking in factories now."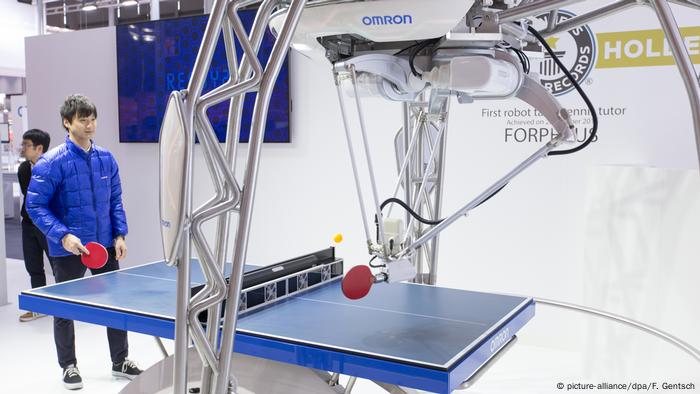 Ping pong-playing robot at the booth of Omron Electronics
Naturally, though, many wonder: What's left for me, if robots can do it all? According to Köckler, new jobs will return to Western Europe once new technologies have asserted themselves. A study presented in Hanover by the Association of German Engineers seems to confirm this notion: 2015 saw more than 500 retrodisplacements. The reasons: greater flexibility and a decrease in labor costs due to a higher degree of automation in production. For 2017, the Federation of German Industries predicts the creation of 500,000 new jobs.
Elsewhere, too, the answers one can hear in Hanover are almost always positive. Robert Bauer, chief of leading sensor technology manufacturer Sick, is no exception. "If we don't do Industry 4.0, and do it the right way, others will. That's when jobs are really in danger," Bauer told DW. Industry 4.0 is another step towards automation, "where we've already taken many steps," he said.
Robots for humans
Till Reuter has a similar view. The chief of Kuka, an automation company that was recently bought out by a Chinese investor. Robots are built for humans, Reuter said in an interview with DW, and they are supposed to help people live and work longer and better in their familiar environment. "That's why we are convinced that robots are useful for humankind." Of course, he added, it is expected that humans will carry out more qualified tasks thanks to automation.
Family-owned business Schunk builds assistance systems of all kinds, amongst others a gripper robot which assembled Lego at the industrial fair. Robots as job killers? On the contrary, said Henrik Schunk, chief of the global market leader. He expects sales to triple. After all, German high-tech companies benefit when "software is now being added to hardware competency."
Education offensive is a must
Schunk also told DW, however, that there would certainly be areas where an autonomous system was more productive. But automation had been around for three decades, Schunk said. "Front pageheadlines have always read: Will jobs disappear? But the job market and the employment rate in Germany is second to none." And that is despite production with robots having sharply increased over the past 10 years. "I wouldn't worry," Schunk said.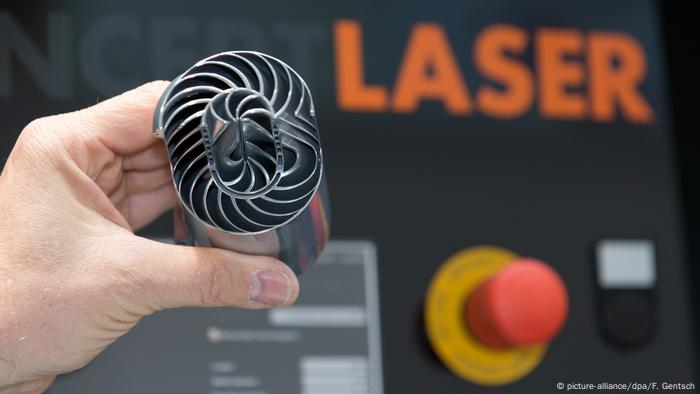 Among other things, General Electric showcases laser-cut heat exchanger elements
Nevertheless, this would require an education offensive, Schunk added, for which firms had the primary responsibility. Schunk has been been a regular at Hannover Messe for many years. US industrial giant General Electric (GE), on the other hand, is only attending for the second time. In terms of digitalization, Germany chief Stephan Reimelt said, the industry was still in it's infancy.
Several years ago, according to Reimelt, GE started advancing digitalization in its 500 plants. "Last year alone," Reimelt told DW, "we have increased productivity in our own plants by $730 million. We learn a ton in the process, and our customers benefit from it, too." Reimelt believes the current fast-paced development will continue. It's important to recognize, he said, "that we all have a lot of work to do." Unlike in Germany, Americans bet on the "Industry 4.0" framework set by the government as agreed upon in the "Industrial Internet Consortium" (IIC).
Whether it's Industry 4.0 or IIC: Over the next few days, the Hanover fair provides an overview of the progress made by the various market players. 200,000 people are expected to see for themselves where we are headed in terms of the digitalization of production.