All updates in Universal Coordinated Time (UTC)
Germany remains on alert after the friendly international match between Germany and the Netherlands was called off at the last minute on Tuesday evening due to a bomb threat.
The game was due to be played at the main football stadium in Hanover, just four days after the deadly Paris attacks - some of which targeted a France vs Germany friendly match at the Stade de France.
Police ordered the stadium to be evacuated and fans were instructed not to hang around the area.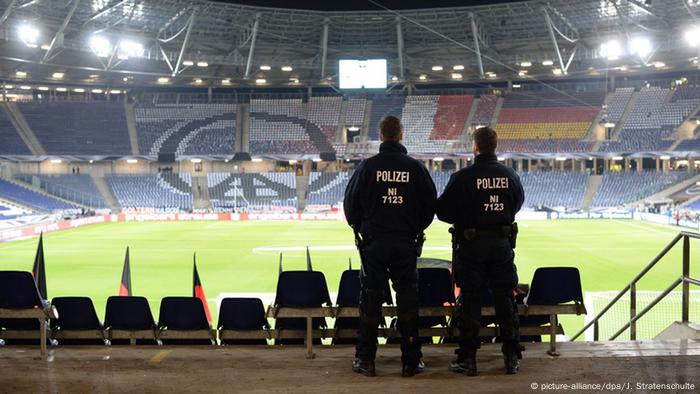 23:24: Hanover police have said that officers are searching for suspects in several places across the city. No arrests have yet been made.
22:38 German FA President Reinhard Rauball says that the Hanover bomb threat will impact security at Bundesliga football grounds.
"My impression is that football in Germany has taken a different turn in many facets," says Rauball. "This is a sad day for German football."
22:21: German bomb disposal have removed a suspicious packed from an InterCity (IC) train in Hanover. Investigators were inable to immediately determine whether it was a bomb or a dummy-explosive.
21:15: Hanover chief of police Volker Kluwe says German authorities "had concrete warnings that someone in the stadium wanted to detonate explosives."
"We received a serious indication that a bomb attack was planned inside the stadium tonight," he tells German public broadcaster ARD.
21:10: A second stadium, the TUI arena in Hanover, has been evacuated. Fans had been waiting to see German band "Söhne Mannheims."
21:00: German Chancellor Angela Merkel along with several other ministers were due to attend the match. She had not yet arrived at the stadium when the game was called off.
20:46: Pistorius: Security efforts couldn't have been faster #gerned
20:42: Pistorius: "Contrary to reports, no explosives have been found."
20:42: Lower-Saxony Interior Minister Boris Pistorius: no arrests have been made until now and no explosives found.
20:40: De Maiziere: "There have not been any arrests made."
20:38 Rauball: "German players on way back to club teams, Dutch flying home." #GERNED
20:37: de Maiziere: "Information came from a foreign source. Central station partially closed off as are some public transport stops."
20:27: de Maiziere has confirmed he recommended cancelling tonight's game between Germany and Holland.
20:25: A press conference is underway in Hannover with German Interior Minister Thomas de Maiziere.
20:15: Police in Hanover have closed a section of the city's central train station as another object has been discovered.
20:00: Local German media report that an ambulance has been found close to the stadium packed with explosives. This has not been confirmed.
18:52: Fans are asked to evacuate the stadium in an orderly fashion and not to remain in the area amid an ongoing safety alert.
18:33: Police say the match between Germany and the Netherlands has been called off for "security reasons."