A bylaw adopted by Hamburg's center-left parliament to allow temporary seizures of vacant buildings to overcome refugee accommodation shortages was slammed on Friday by the city's opposition free-market liberal FDP leader Katja Suding.
She told the German public radio channel Deutschlandradio Kultur that the bylaw amounted to a breach of property rights. She accused Hamburg's SPD-Greens coalition government of ignoring housing offers from citizens and rejected the argument that such accommodations would be insufficient for the number of asylum-seekers in the city, which is also one of Germany's 16 states.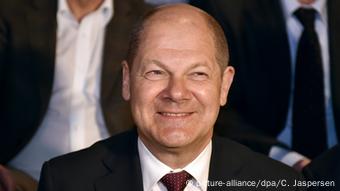 Mayor Scholz ruled out private home seizures
Rent or purchase preferred
Interior Senator Michael Neumann said Friday that the city preferred to rent or purchase extra buildings as refugee shelters, but the bylaw gave it the additional power to make seizures if necessary.
"I hope that the law will never be applied," he said, referring to a past case when a clinic had refused to make space available on the grounds that its image would be adversely affected.
The legislation passed on Thursday evening with the votes of the city's Social Democrats (SPD), Greens and Left party will allow the temporary seizure of vacant commercial buildings until March 2017.
The city is required to compensate owners adequately and appropriations can only occur when space at main refugee reception centers is close to running out.
'Not private homes'
Hamburg Justice Senator Till Steffen of the Greens said last week that the measure applied to "vacant commercial buildings, not private homes." Mayor Olaf Scholz, a member of the Social Democrats, had previously ruled out seizures of private accommodation.
Suding led nine members of the opposition pro-business Free Democrats (FDP) party in regaining a foothold in Hamburg's senate in February.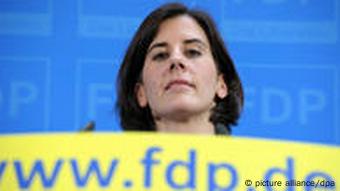 Property right breach, says Suding
The FDP had been in decline since 2013 when it crashed out of federal parliament after governing with Chancellor Angela Merkel's conservatives.
400 reaching Hamburg daily
Some 400 to 500 refugees are reaching Germany's northern port metropolis daily. Hardly any containers or tents remain available, senate officials said, referring to a trend across Germany as the winter approaches in the country.
Germany, as Europe's top destination for people fleeing war and poverty, took in more than 210,000 migrants last month, more than in all of 2014.
For the whole of 2015, Germany is expecting more than 800,000, many of whom fled conflict and persecution in Syria, Afghanistan, Eritrea and Iraq.
On Thursday, Interior Minister Thomas de Maiziere submitted a legislative package to the federal parliament intended to improve integration of recognized refugees while accelerating deportations of migrants from the Balkans.
Tempers flare
Tempers have flared at several improvised shelters across Germany, including one in Hamburg on Thursday and on Sunday in the central city of Kassel.
Survey findings published Thursday from the pollster Infratest Dimap showed mounting insecurity among German voters.
Fifty-one percent of people polled at the end of September confirmed that they were "anxious that so many people were coming to us." In August that number was 38 percent.
In contrast, 47 percent said the refugee trend did not make them anxious, compared to 59 percent in August.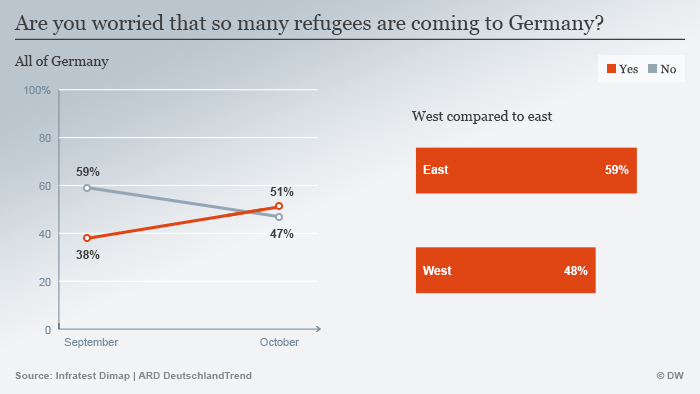 The survey also showed broad endorsement of de Maiziere's proposed asylum law changes that would list Albania, Kosovo and Montenegro as "safe countries of origin."
Quicker refugee access to Germany's labor market, another of the proposals, was endorsed by 79 percent of those surveyed.
Industry leaders have often highlighted shortages of recruits, due in part to the demographic ageing of Germany's population.
ipj/sms (KNA, EPD, dpa, AFP)