The European Union warned Hamas that it stood at a crossroads on Monday after the militant group, which figures on the EU's terror list, named a new Palestinian cabinet dominated by its members.
The EU is by far the biggest aid donor to the poverty-stricken Palestinian territories and has made future help conditional on the Palestinian cabinet agreeing to recognize Israel, forswear violence and accept previously-reached accords.
Austria's Foreign Minister and President of the EU Council Ursula Plassnik
"Hamas is at a crossroads now," said Austrian Foreign Minister Ursula Plassnik, whose country holds the EU presidency.
"Hamas will have to decide which road to take, how to take the responsibility that is coming upon it now," Plassnik said.
"Our message has been clear and consistent. It will be clear and consistent also in this situation," Plassnik said as she arrived for a meeting of the 25-member bloc's foreign ministers.
Hamas remains defiant
But Hamas, whose senior members have been appointed to key portfolios, has shown little sign that it will agree to any, let alone all, of those conditions, which are also supported by the United States.
Its stance has left the EU, which sends around 500 million euros ($609 million) a year to the territories, with a huge dilemma at a desperate time for many Palestinians.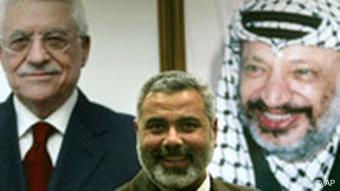 Incoming Palestinian Prime Minister Ismail Haniyeh
After Hamas's stunning election victory in January, Israel imposed sanctions on the Palestinian Authority, including withholding some 50 million euros a month in tax and customs duties.
The World Bank says the local economy could implode and unemployment double to some 40 percent. On Sunday, the United Nations warned that the Gaza Strip is dangerously short of food and faces a humanitarian crisis.
Last month, the EU announced a 120 million euro package to help meet the basic needs of Palestinians and pay public sector salaries, 64 million euros of which was signed over to the UN on their behalf on Monday.
The bloc has since been studying ways to channel aid to the people and the caretaker government under Palestinian leader Mahmud Abbas, while keeping money out of the hands of the militants.
No punishment for the Palestinian people
British Foreign Secretary Jack Straw said the EU wants to continue to help the Palestinians but that its next move would be up to Hamas and the people who put it in office.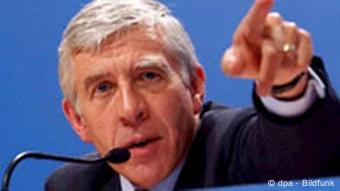 It's up to Hamas: British Foreign Secretary Jack Straw
"We don't want to punish the Palestinian people for their votes at all," he said as he arrived for the meeting.
"On the other hand, the Palestinian people need to say to any Hamas government that democracy involves responsibilities, and above all a responsibility not to get involved in violence," Straw said.
Luxembourg Foreign Minister Jean Asselborn said diplomatic movement could come after the elections in Israel on March 28.
"I think today we are going to do all we can to see how we can help the Palestinian people, that's what is most important," Asselborn said. "When the elections are over in Israel, in a week, then we might be able to launch things again on a different level."
EU External Relations Commissioner Benita Ferrero-Waldner said she hoped that Hamas would soften its stance, but she warned that the Union would not.
"We leave the door open for positive change but at the same time we also have to make clear we cannot go soft on our principles," she said.