Turn back the clock to Fall 2015. It's September 1 and Guatemalans have their eyes fixed on the country's congress. The 158 parliamentarians are to vote on whether President Otto Pérez Molina should be stripped of immunity and face charges of being involved with the corruption ring "La Linea". Government officials involved in the ring had been running a customs-fraud operation where they had taken bribes in exchange for reducing import tariffs. On the day of the vote, however, Pérez supporters block the entrance to the congress to prevent the deputies from voting.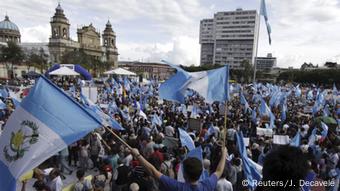 In 2015 demonstrators called for the resignation of then-president Otto Pérez Molina – and succeeded
Guatemala's civic organizations catch up on the event via WhatsApp, Facebook and Twitter and get together to peacefully show their dissent. Maria Wer and other activists begin distributing white roses and water to the Pérez backers and ask them to clear the way. Those still in their offices support the activists by posting appeals, photos and videos on social media, and the Pérez backers eventually leave. Via Twitter and Facebook, Guatemalans call on their parliamentarians to hold the vote that same day. They finally do and 132 of the 158 congress deputies vote to lift the president's immunity. Pérez resigns the following day and is arrested one day later.

Effective protest

It was a huge success for protesters like Maria Wer. "We couldn't have done it without new media," she says. "They provided the tool for people to take part in Pérez's dismissal." The 24-year-old from Guatemala City became an activist while studying economics. During her final year at university protests began against government corruption. During the course of the protests, many student and civic movements joined to organize campaigning activities. "It was fascinating because it brought together student groups from different ideological perspectives," Wer says. "This was the first time in Guatemalan history that different groups joined forces to fight against the country's corrupt political system."

Given new corruption cases, further resignations and more campaigns, the activists kept up their work after Pérez resigned. Maria Wer began working for the national civic movement "Movimiento Civico Nacional" (MCN). Its goals include political education for Guatemalans and accountability in the legislature.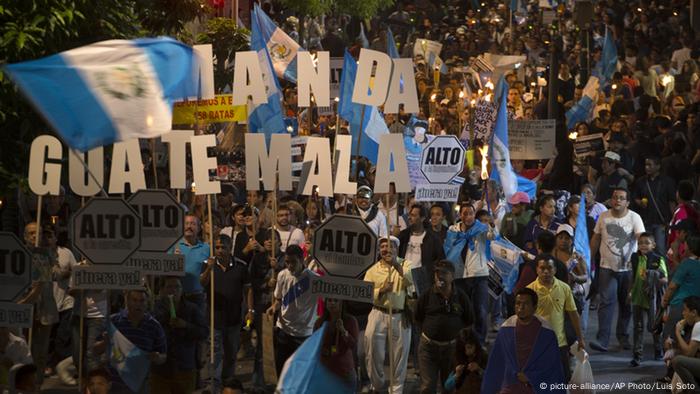 A huge response. "We couldn't have done it without new media," says Maria Wer
Weighing the political events

It's almost a year later and the young activists have a chance to reflect on the events of 2015. DW Akademie invited Maria Wer and eleven other journalists, bloggers and activists to critically assess the events at the media dialogue "Society, new media and political change". It was held July 28 – 30 in the Guatemalan city La Antigua. "Most of us knew each other from our joint campaigns last year, but the media dialogue was an opportunity to get together in a quiet, trusting environment," Wer says. The three-day dialogue included workshops on topics such as access to information, digital safety and the use of new information channels for civil society concerns. Wer says she liked the fact that the participants had different viewpoints. "It was good to look back on last year's events from various perspectives. I now have a much clearer picture of what happened."

The participants also gained insight into social media's role in sharing knowledge within civil society. "Last year most of us didn't know about the procedures involved in dismissing someone from office," Wer says. "So those who were familiar with the legal system created infographics and distributed them via social networks." That way everybody learned.
Sharing viewpoints on and offline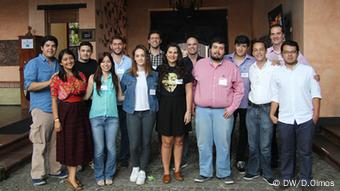 Participants of the media dialogue
Participants at the media dialogue also discussed their current situation, where they stand today and how things will proceed from here. They also looked at how to use social media to increase transparency in the political system and to make democracy a more participatory process. One conclusion was to continue to work on bringing civil society members together on digital platforms. The role of traditional media would be less on generating news than on sorting the news flow on social media.

Given that civic organizations no longer depend on conventional media for deciding the news stories, they could start generating news themselves via new media.
"Traditional media don't cover us if they don't share our views," Wer says. "Now we can publicize our own views and promote our events." Wer, however, also has some reservations about new media. "I might be a millennial but I still believe that it's best to have personal contact. We all benefited from meeting each other at the media dialogue," she says. "This will help us work together in a more effective and structured way."