The Pentagon said on Sunday that 42 year old Fayiz Ahmad Yahia Suleiman had been released to Italy. The US does not send Yemeni prisoners to their homeland because of instability there, and has struggled to persuade other nations to accept prisoners. Two Guantanamo detainees were transferred to Italy in 2009.
President Obama's term in office ends in January 2017 and the president has been angling to add Guantanamo's closure to a list of other presidential legacies, including restoring US-Cuban relations earlier this year.
Detainees not prisoners
"We're not a travel agency," Lee Wolosky, the State Department's special envoy for the Guantanamo closure, said earlier this year.
Suleiman is one of over 20 low-level Guantanamo prisoners expected to be released in the next few weeks.
The remaining prisoners are expected to be brought to facilities in the US and could be processed by military commissions or tried in civilian courts. But the exact time frame for the closing the camp has not yet been revealed.
On the seventh anniversary of President Obama's promise to close the prison within a year (January 22, 2016), it was announced that two more men had been freed: an Egyptian in Bosnia, and a Yemeni in Montenegro.
In April, after over two months with no releases, two Libyans were given new homes in Senegal, and nine Yemenis were then rehoused in Saudi Arabia. In June, another Yemeni was transferred to Montenegro.
Of the 78 remaining in Guantánamo, 15 were cleared for release in 2009 by President Obama's Guantanamo Review Task Force. Some 29 cleared prisoners are still being held.
Critics unabated
"This is the longest-standing war prison in US history," according to the American Civil Liberties Union.
"Fashioned as an 'island outside the law' where terrorism suspects could be detained without process and interrogated without restraint, Guantanamo has been a catastrophic failure on every front. It is long past time for this shameful episode in American history to be brought to a close," the union wrote in a report.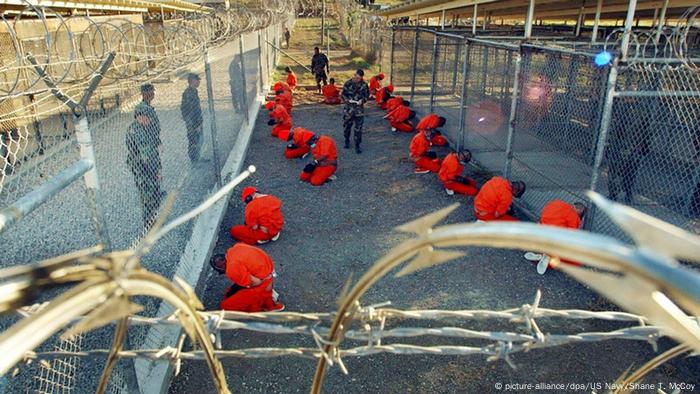 So, who's still there?
Since inception in January 2002, 779 men have been brought to Guantanamo, and just under 200 had been released by mid-2004, before any Combatant Status Review Tribunals, or CSRTs - set up to review whether detainees were rightfully being held as enemy combatants - had taken place.
Afghans made up the largest group (29 percent), with Saudi Arabians (17 percent), Yemenis (15 percent), Pakistanis (9 percent), and Algerians (3 percent). Overall, 50 nationalities were at Guantanamo.
Most of the remaining inmates have not been charged with any crimes, according to a comprehensive database at "The New York Times." All are men, mostly in their 30s and 40s, it shows. The youngest is about 30 or 31, and the oldest 68. Most have been there for more than 13 or 14 years.
At least 43 inmates - known as the "forever prisoners" and deemed too dangerous to release but not charged with any crimes - are reportedly being held indefinitely and have not been recommended for release by the review boards.
Indefinite detention without trial is illegal under the Geneva Conventions. The Bush administration argued that international laws did not apply to "unlawful enemy combatants."
Charges brought
Seven of the prisoners have been charged with war crimes in the prison's military commissions. These include Khalid Sheik Mohammed, the alleged organizer of the 9/11 terrorist attacks, and his four alleged co-conspirators.
Three inmates have been convicted of war crimes, but the conviction of one was overturned on appeal.
Released to do it again?
In March this year the Department of Defense said that 118 of 676, or 17 percent, of those released were confirmed to have returned to terrorism, with a further 86 (13 percent) suspected of doing so.
"Americans have been killed by prisoners released from the detention center at Guantanamo Bay," Paul Lewis, a Pentagon employee tasked with Guantánamo closure, told reporters.
Mostly low-level detainees
A 2006 report by the Center for Policy and Research, Seton Hall University Law School noted that of the remaining 517 men in 2005 over 80 percent had been captured not by Americans on the battlefield but by Pakistanis and Afghans, often in exchange for bounty payments.
Its report found that most detainees were low-level people who were not affiliated with organizations on US terrorist lists.
Reintegration issues
Of the Yemenis who have returned to their home country, 10 have tried to reclaim their lives and are now married and working, but for others the security situation has made life difficult, says Ahmed Arman, a Yemeni lawyer and human rights activist.
Shaker Aamer, the last British resident, returned to his family in 2015. Fifteen men in total were sent to the UK.
"Imagine being taken out of the world for 14 years, tortured, given no compensation, sent somewhere with no ties, no family and someone says, 'just dust yourself off,'" Lawyer Cori Crider told Al Jazeera.