The Arctic Sunrise received a warm welcome in the Netherlands on Saturday, greeted by dozens of well-wishers, many of whom waved Greenpeace's rainbow flag.
The icebreaker had set sail from the Russian port city of Murmansk on August 1. Russia had released the ship in June but then it took around a month to get the vessel seaworthy; Greenpeace said equipment including navigation and communication aids "disappeared or had been severely damaged."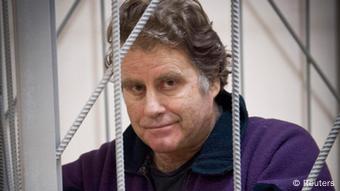 Willcox was in charge of Greenpeace's "Rainbow Warrior" when it was sunk in 1985 by French agents
"It's great to have her back," veteran Greenpeace captain Pete Willcox, the ship's skipper when it was seized by Russia after a protest at an oil rig last September, told news agency AFP by telephone. "We were missing a big member of our family for many months."
A group of 30 Greenpeace activists and journalists, later dubbed the "Arctic 30," were arrested on September 18, 2013, after two of the protesters attempted to scale a Russian offshore oil platform. They were initially charged with piracy, then faced less severe hooliganism accusations. They were bailed after around two months in detention, before a Kremlin-approved amnesty secured the group's pardon in December. The same law led to the release of jailed members of the feminist "Pussy Riot" music group.
Greenpeace is seeking to sue Russia at the European Court of Human Rights for what it describes as the illegal detention of its activists, including four Russian crew members.
'Na Zdarov'ye'
More than half of the Arctic 30 boarded the ship after it arrived in Beverwijk port on Saturday, ready for the festive entry into nearby Amsterdam harbor. They drank a ceremonial cup of tea made in a traditional Russian teapot, a samovar, as part of their celebrations.
After the welcoming ceremony, the Arctic Sunrise was taken to a shipyard for repairs. Skipper Willcox said he expected the ship to be "back out campaigning in about a month, maybe six weeks."
Greenpeace opposes efforts to expand offshore oil and gas operations in the gradually-thawing waters around the Arctic, arguing that such operations pose a threat to the regions pristine ecology.
International efforts to lay claim to what could become a key shipping lane and a resource-rich area of ocean are intensifying, meanwhile. Canada on Friday dispatched two icebreakers to the High Arctic on a data-gathering mission, part of its bid with the United Nations to vastly expand its Atlantic Ocean boundary. Canada faces competing bids from countries including Russia, Norway and Denmark.
msh/jr (AFP, dpa)