Aviation workers joined striking civil servants in Greece, grounding flights and halting government services early on Wednesday. An estimated quarter of a million civil servants in Greece are on strike to protest severe austerity measures.
On Tuesday, Greek Finance Minister George Papaconstantinou outlined plans to freeze public sector wages and raise taxes in order to reduce Greece's spiraling debt.
The planned cuts include wage freezes and bonus cuts and could affect state schools, hospitals, tax offices and local government offices.
Papandreou urges restraint
The plans are part of the government's pledge to cut the budget deficit, which rose to 12.7 percent of gross domestic product (GDP) last year. Athens hopes to bring the deficit to below the EU's 3 percent ceiling by 2012.
But the cuts have angered unions.
"They (the government) had promised the rich would pay but instead they take the money from the poor," Ilias Iliopoulous, general secretary of the public sector union ADEDY, said. "This is the policy we are fighting, not the effort to get out of the crisis."
Greek Prime Minister George Papandreou has urged the unions to show restraint, saying the country could not afford strikes and blockades just as the government announced tax reforms and increased the retirement age.
"Our primary duty is to save the economy and to reduce debt while seeking just solutions that protect as much as possible those on lower incomes and the middle class," Papandreou said on Tuesday.
Fear of crisis spreading
German Finance Minister Wolfgang Schaeuble was said to be working both on a bilateral basis and at the European level in order to hammer out an aid package to help Greece control its massive debt.
According to a report in the Financial Times Deutschland, an unnamed German government official said Berlin has decided to "take a significant step" in helping Athens deal with the crisis so that other eurozone members can avoid negative consequences.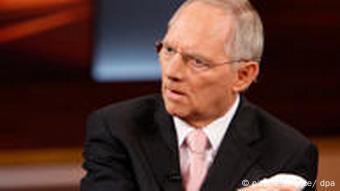 Schaeuble is expected to inform his party about the aid package on Wednesday
"We are thinking about what we should do if the crisis spills from Greece into other euro countries," said the official. "So it's more about finding firewalls, containing the problem, than principally about helping the Greeks."
EU Monetary Affairs Commissioner Joaquin Almunia echoed the fear of the crisis spreading beyond Greece. He also said it was important for EU leaders to match Greece's efforts to handle its debt.
"I would like the leaders of Europe to say to the Greek authorities that in exchange for the efforts you are making, you are going to get support from us," he told the European Parliament.
If the aid package is approved, it would be the first time one of the 16 countries sharing the common currency, the euro, is bailed out.
Greece's situation is likely to be the focus at an informal summit of EU leaders on Thursday, with European Central Bank President Jean-Claude Trichet present.
mk/hf/AFP/dpa/Reuters
Editor: Sonia Phalnikar