Reacting to Vienna's moves to restrict the influx of refugees, Greece refused to allow Austrian Interior Minister Johanna Mikl-Leitner to visit a refugee camp next week. It comes a day after Athens recalled its ambassador to Vienna in retaliation to Austria's decision to leave Greece out of a refugee conference.
A foreign ministry source confirmed the report in the state news agency ANA on Friday.
Austria and Greece have been trading accusations over the ongoing refugee crisis in Europe. Vienna says that Athens is allowing an excessively high number of migrants to continue their journey to Western Europe, whereas Greece is infuriated over Austria's plans to introduce a series of border restrictions along the Balkan states, which it says is causing a bottleneck on its soil.
At a meeting of EU interior ministers on Thursday, Mikl-Leitner questioned Greece's place in the passport-free Schengen zone.
"If it is really the case that the Greek external border cannot be protected, can it be still a Schengen external border?" she said.
Greek migration minister Yiannis Mouzalas retorted that Mikl-Leitner was "falsifying the truth" and "dragging Austria into increasingly hostile acts towards Greece and the EU."
"Our country guards its borders, which are also Europe's borders, in the best possible way. This is a fact confirmed by (EU border agency) Frontex, the European Commission and other institutions," Mouzalas said in a statement.
Fewer ferries
In another move, Greece's government ordered officials on its islands facing Turkish coasts to reduce the number of ferries carrying refugees to the mainland.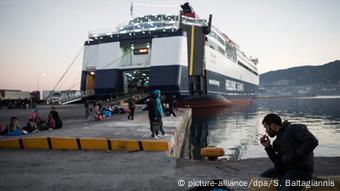 The refugees will have to "wait a little longer" before continuing their journey to mainland Greece
"We must slow the influx because of the backlog on the mainland," shipping and islands minister Thororis Dritsas told the local media.
The decision means that fewer ships will be sent to islands where migrants arrive from Turkey, and fewer tickets will be sold to the refugees.
Dritsas said the migrants would have to "wait a little longer" now before continuing their journey to mainland Greece. They will be temporarily housed on ferries docked in the ports of Lesbos, Chios and Samos, he added.
Thousands of people are fleeing a protracted war in Syria and Iraq and heading to Europe via the Mediterranean Sea. The arrival of these refugees has sparked a refugee crisis unseen in Europe in decades, with many governments imposing strict border checks to impede and manage the flow of migrants.
shs/ rc (AFP, AP, Reuters, dpa)