Feeling betrayed by Greek Prime Minister Alexis Tsipras, who was elected on an anti-austerity ticket, Greek unions launched a 24-hour strike, shutting down public services and preventing dozens of boats, trains and planes from moving.
In protest of tax hikes and an upcoming pensions overhaul, more than 20,000 workers descended on Athens, some carrying balloons that read "the words of Alexis," an insinuation that Tsipras' promises to scrap austerity were little more than hot air.
In a departure from convention, Tsipras' far-left Syriza party urged "mass participation" in Thursday's walkouts, saying the protests would strengthen the Greek government's negotiating stance with its creditors, who have criticized Athens for failing to deliver on some measures.
Party lawmakers responsible for labor policy called on ordinary Greeks to protest "the neoliberal policies and the blackmail from financial and political centers within and outside Greece."
A balancing act
At the very least, they highlighted the difficulty of balancing citizens' concerns over further cuts to social services with demands from Brussels that Greece rein in spending or risk crashing out of the eurozone.
Following months of brinkmanship and increasingly acrimonious, late-night negotiations between Athens and its international creditors, Alexis Tsipras finally relented last July, agreeing to a three-year, 86 billion euro ($92.6 billion) bailout. The money, badly needed to keep Greece afloat financially, came with stringent conditions.
"I am protesting against the government because they are making fools of us," one protestor, a 63-year-old pensioner, was quoted as saying by AFP. "We were better off with the conservatives," a garbage collector said.
Tsipras has said he had little choice but to accept the bailout and the austerity measures that came along with it. His re-election in September seemed to indicate that a majority of Greeks, while angered by the belt-tightening measures, understood his plight.
Yet Greeks in several major cities still took part in the day-long strike, with an estimated 8,000 people turning up in the port city of Thessaloniki, the country's second largest population center.
Thousands more didn't show up for work on several Greek islands, stranding thousands of migrants and refugees looking to continue their journeys to Europe's hinterlands.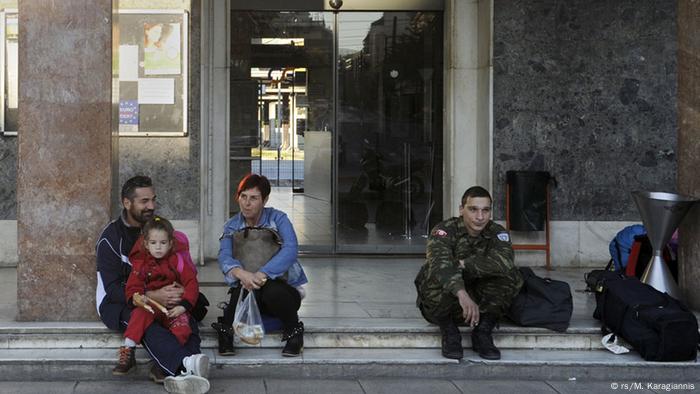 A slow recovery
More than a million Greeks still lack gainful employment, according to official statistics. Labor activists say that number is likely even higher.
Greece's national statistics office on Thursday released fresh unemployment data that showed the jobless rate had fallen to 24.6 percent of the registered workforce in August from 24.9 percent a month earlier.
Though the unemployment had fallen to a level not seen since June 2012, it was still the highest among the 19 countries that use the euro currency. Spain, for instance, No. 2 in terms of jobseekers, had a rate of 21.6 percent.
cjc/uhe (AFP, AP, Reuters)