Despite misgivings from creditors in a standoff over the country's third bailout, the Greek government ignored its international lenders and legislated plans on Thursday by giving pensioners a one-off Christmas bonus.
The handout, announced by leftist Prime Minister Alexis Tsipras last week, earmarks 617 million euros ($656 million) for a one-off payment to low-tier pensioners.
"[Greek] people have to see that sacrifices of now six, seven years are at last starting to pay off," Finance Minister Euclid Tsakalotos said.
Following the announcement, EU lenders said on Wednesday that they were suspending the deal clinched earlier this month to offer Greece short-term debt.
'No fiscal impact
Faced with a backlash of criticism from Germany and other member states, Tsipras insisted that the one-off fiscal break would not derail the economic targets outlined in Greece's bailout plan.
"I want to stress that these are measures that do not jeopardize the program nor the primary surplus for 2016 and have no fiscal impact on 2017 and 2018," he told a news conference in Brussels.
In addition to a pensioners festive bonus, value-added tax will also remain at 16 percent on some islands, while residents continue to bear the brunt of the migration crisis, Tsipras said.
'Sovereign decisions'
The issue over the pension payout is expected to be addressed on Friday when Tsipras meets with German Chancellor Angela Merkel for talks in Berlin. Following the regular EU summit in Brussels on Thursday, Merkel said "a critical discussion has already begun" on the matter, but insisted "it is not my intention to negotiate with Greece about the Greek package."
Arriving at the same summit, French President Francois Hollande came to Tsipras' defense, saying it was wrong to prevent Greece from taking "sovereign decisions." The outgoing French leader also suggested that eurozone ministers had not granted Athens sufficient debt relief.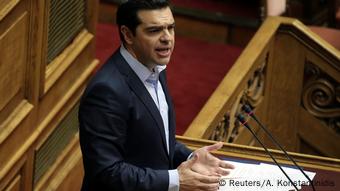 Greek Prime Minister Alexis Tsipras
Pensioners protest
With Tsipras' popularity continuing to decline, Greek pensioner associations have ironically rejected the one-off handout, describing the approximate 300 euros per person as "peanuts."
Hit with extensive austerity measures, including almost a dozen pension cuts, around 5,000 pensioners staged a protest in Athens on Thursday to criticize the move.
The dispute over the payout is just the latest problem in the deepening rift between Athens, its European partners and the International Monetary Fund (IMF). Amid the standoff over economic assumptions and debt relief, the IMF - which participated in Athens' first two bailouts - has so far refused to contribute funds this time.
Greece, which has been in recession since 2009, signed up to more economic reforms and austerity measures last year as part of an 86-billion-euro ($92-billion) bailout deal.