The Greek government's refugee crisis committee has announced measures to counter false rumors on social media that borders across the Balkans could re-open for refugees.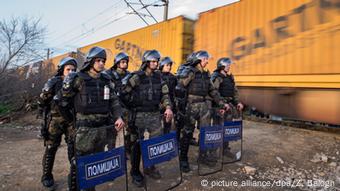 The state of emergency at the Macedonia border is to continue for the rest of the year
"We are trying to step up efforts to address refugees and migrants in their own language and without an intermediary," Giorgos Kyritsis, spokesman for the government's coordination panel on the migration, said on Monday.
Interviewed on the News247 website, Kyritsis condemned "irresponsible rumors and disinformation" which "spread like wildfire... among people who are under pressure and living in very difficult conditions."
An agreement between the European Union (EU) and Turkey went into effect on March 20. Since then, any migrants who reach Greece are being returned to Turkey. A total of 1,331 people have arrived since March 21, according to official figures.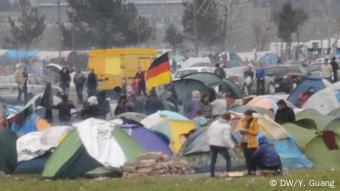 Migrants remain at the Idomeni camp, with many still hoping for passage out of Greece
More than 50,000 migrants are stranded in Greece after other European countries sealed off the so-called Balkan route towards northern Europe.
"People who are under strain and living in difficult conditions are receiving false reports ... when people are desperate, rumors spread like wildfire," Kyritsis said. "We are sending a team of translators (to the border) and loudspeakers will be set up to make public announcements."
Idomeni rumor
On Sunday, there was a rumor spread on social media that Red Cross officials would help migrants force their way from Idomeni towards the Macedonian border. This led to several hundred migrants, including people in wheelchairs and some carrying babies, making their way towards the border. They were stopped by Macedonian troops.
Macedonia's parliament voted on Monday to extend, until the end of the year, a state of emergency in regions bordering Greece and Serbia as a response to the number of migrants trying to cross into its territory. The army will continue to be deployed to patrol the fence, which now lines the frontier.
Government-built shelters
Greece's armed forces have set up more shelter places at various sites around the country. But more than 15,000 migrants are refusing to move to them, preferring to stay at the border with Macedonia or at the port of Piraeus, near Athens.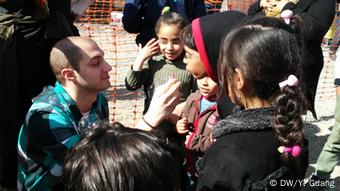 Refugees who arrived in Greece after March 20 are being returned to Turkey
More than 2,000 people who reached the Greek islands after March 20 have been detained and are awaiting deportation to Turkey. On the islands of Chios and Lesbos, there were further protests with migrants chanting, "We want freedom."
Public Order Minister Nikos Toskas visited the two islands on Monday. He said the number of migrants had been falling in the last week. "It is clear that Turkey can control the situation, and it has done so in accordance with the agreement," Toskas said, "It remains to be seen in the coming days whether that will continue.
jm/gsw (AFP, AP)