Early on Tuesday morning, Google unveiled its first Street View photographs in Germany, honoring the Bavarian town of Oberstaufen to include "selected streets" where the company had sent its vehicles.
Oberstaufen had previously explicitly invited Google to their town, and even went so far as to bake the Silicon Valley company a cake, citing the potential for a boost in tourism.
Earlier this year, the company announced it would launch Street View in Germany's 20 largest cities, including Berlin, Hamburg and Cologne, by the end of the year.
Other specific locations around Germany that are also available include a public square surrounded by historical buildings in Dresden called the Theaterplatz and a number of football stadiums, including Munich's Allianz Arena.
Google said that there had been no reaction from government officials to the launch, despite all the controversy generated by the company's plans for the last 18 months.
"We haven't heard anything from politicians or [data protection authorities]," said Lena Wagner, a Google Germany spokesperson, in an interview with Deutsche Welle.
After government authorities complained, including Consumer Affairs Minister Ilse Aigner and Foreign Affairs Minister Guido Westerwelle, Google eventually acquiesced to public pressure, providing an eight-week window, which ended last month, for German citizens to remove themselves from the service.
After the deadline, the California company announced that around 244,000 people had chosen to opt-out of the service, or under three percent of the total number of residents of the 20 selected cities.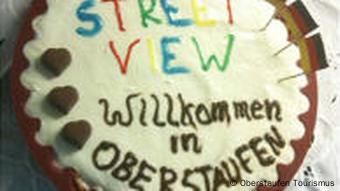 The Bavarian town had previously baked a cake for Google
Some houses are blurred
As Google promised, the removed houses show up as a blurry, translucent image, such as the house next to the Buecher Edele bookstore at Hugo-von-Koenigsegg Strasse 13 in Oberstaufen.
In an interview last month with Deutsche Welle, Wagner noted that despite their complaints, Germans actually like using Street View in other countries where it already exists, saying that hundreds of thousands of Germans use it every week.
"We also know that Germany is the number one country in terms of Street View in all countries where we haven't launched Street View yet," she said.
Despite the launch of Google Street View, Germany is continuing to investigate possible privacy violations as Google admitted that it had captured some "payload data" while scanning open WiFi networks during the course of taking photographs for Street View.
In late October, the company admitted that it had captured some e-mails and passwords.
Those revelations failed to surprise Johannes Caspar, Hamburg's commissioner for data protection and freedom of information, who is a leading authority in the German Google investigation.
"This just confirms what we expected," he told Deutsche Welle at the time, adding that the company could yet face fines.
Author: Cyrus Farivar
Editor: Nathan Witkop