When the current WTO head, Thailand's Supachai Panitchpakdi, ends his term on Sept. 1, 2005, one of four highly qualified men is expected to fill his shoes.
The European Union has sent former trade commissioner Pascal Lamy into the race. Uruguay has nominated its ex-WTO ambassador, Carlos Perez del Castillo, and Brazil has vetted another WTO insider, Luis Felipe de Seixas Correa. Mauritius has put its cards on Foreign Minister Jayen Cuttarree.
"Professionally, Lamy is best qualified," said Rolf Langhammer of the Kiel Institute of World Economics. "But that's not all that matters. It's horse trading, a tug of war between the regions."
The WTO head largely spends his time mediating and negotiating, and giving speech after speech throughout the world -- usually outside of the limelight. His authority doesn't compare to that of a head of government. His job is to be persuasive, and "if the big boys won't play along, he's got a problem," Langhammer said.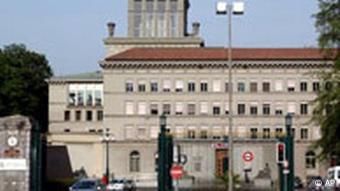 WTO headquarters in Geneva, Switzerland
Neither an African nor a Latin American has ever held the top post in the WTO. And when a candidate is finally chosen, each of the 148 members must agree unanimously on him or her. That suggests Lamy has the best chances, according to WTO expert Georg Koopman from the Hamburg Institute of International Economics.
"For one, he has backing from Europe, with 25 WTO members, and then he has a very good connection to the US, and to (US Trade Representative) Robert Zoellick," he said. "It would surprise me if (the ultimate winner) wasn't Lamy."
Impressive resume
The Parisian lawyer can look back on an exemplary career. He graduated from the renowned ENA, the French National School of Public Administration and worked in the French finance ministry.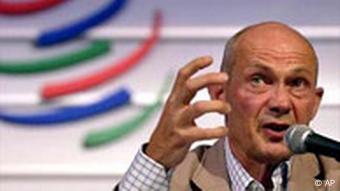 Lamy at a WTO meeting in Cancun, Mexico in 2003
In 1981, then French Finance Minister Jacques Delors chose Lamy as an advisor and made him chief of staff in 1985 when Delors became European Commission president. Following a five-year stint at Credit Lyonnais bank, Lamy moved back to Brussels as EU trade commissioner in 1999.
Without favorable relations to the EU and the US, a candidate wouldn't have a chance.
"An unknown candidate would be a sign of weakness," Langhammer said, adding that Lamy, a socialist, has very good contacts to Africa as well.
More than contacts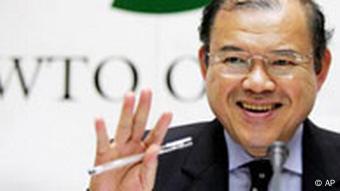 Outgoing WTO Director General Supachai Panitchpakdi
But a fat address book isn't the only prerequisite for a WTO director general. Obviously, the successful candidate should be familiar with trade issues.
"He should have the qualities of a good broker who can balance interests and set guidelines," Koopmann said.
There's little doubt that Lamy has the necessary skills, though whoever takes the post faces a mammoth task. As director general, he would have to bring to a close the so-called Doha round of WTO talks -- named after the city in Qatar where they took place -- which are supposed to create the rules for developing countries to be better integrated into the world market.
A marathon runner in his free time, Lamy is considered to be tenacious and persistent.