The gold medalist in Rio and the man who has had to wait so long to be king are tied at the top of the leader board going into the final day at Augusta National Golf Club.
England's Justin Rose, who won the gold medal at last year's Summer Olympics, was three strokes off the lead coming into Saturday and was even in third round play through 11 holes. Rose ended the round by making birdie in five of the remaining seven holes on Saturday to put him at six-under-par for the weekend.
"I took advantage and the last two birdies put the cherry on the cake. It was a reward for staying patient on the front nine," said Rose.
Spain's Sergio Garcia, who has yet to win a major tournament in 73 starts, started Saturday in a four-way tie for the lead. After going up and down between holes five and nine with two birdies and two bogeys, Garcia added two birdies and hit par on the final nine holes to tie Rose for the lead.
"It was hard but it was fun to play well again, to go through a Saturday at the Masters with a chance at winning and to be up there going into tomorrow," said Garcia.
Tight final round
There is no room for error for Rose or Garcia, who share a one-stroke lead. There are four golfers within two strokes of the co-leaders after Saturday play. And there is always the chance a late run could challenge whoever may be up top.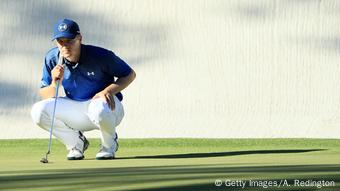 2015 Masters chamion Jordan Spieth is looking for redemption after last year's final round collapse
2015 Masters champion American Jordan Spieth knows that all too well, after his five stroke lead halfway through the last year's Masters final round fell apart and finished tied for second. Spieth crept back near the top of the leader board after a dismal 75 on Thursday. Spieth went without a bogey for 29 straight holes on Friday and Saturday, hitting nine birdies in the process. He is now just two strokes off the lead. Spieth felt good about his chances while playing catch up.
"After the first round, I couldn't ask for much better than this," said Spieth. "We fought back tremendously to have a chance to win this golf tournament and no matter what happens at the end, we will have a chance to win with a really good round tomorrow."
American Charley Hoffman, who shared the lead after Friday's play, ran into trouble when he neared the clubhouse. Hoffman was three-under-par through 13 holes, but finished three over par the rest of the way, including a double bogey on hole 16 to put him two strokes behind Rose and Garcia.
The lone German still on the course, Martin Kaymer, shot a 74 on Saturday. Kaymer is 10 strokes off the lead at four-over-par.
kbd/kl (AFP, AP, Reuters)