Launched in July 2000, the United Nations Global Compact is a leadership platform for the development, implementation and disclosure of responsible and sustainable corporate policies and practices. Endorsed by chief executives, it seeks to align business operations and strategies everywhere with 10 universally accepted principles in the areas of human rights, labour, environment and anti-corruption. With over 8,000 corporate participants in over 150 countries, the United Nations Global Compact is the world's largest voluntary corporate sustainability initiative. DW Business reporter Janelle Dumalaon spoke to Global Compact's new executive director, Lise Kingo from Denmark, on the sidelines of a conference of the organization in Berlin.
Deutsche Welle: Global Compact currently has around 8,000 members, that's about a fraction of the 50,000 or so listed companies in the world. How are you going about getting more companies to really do business more sustainably?
Lise Kingo: I have worked more than 25 years in business. So I'm quite used to what arguments are convincing to business. In my mind, the new sustainable development goals (SDGs) should be seen as a way to turn risks into opportunities. They are a lighthouse very clearly showing the direction of the developments we should take in the next fifteen years. I think it's a great opportunity for business to have this clarity, this focus on poverty, on climate, on women, so that companies can already begin to invest in some these themes, integrate them into the heart of their businesses, and be a frontrunner in the way they innovate and grow their business. The new goals can be a source of innovation and a source for new growth for companies.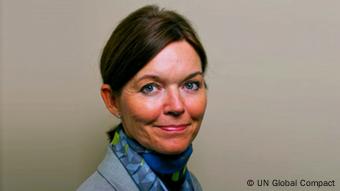 UN Secretary-General Ban Ki-moon appointed Lise Kingo as Executive Director of Global Compact in June this year. She succeeded Georg Kell, who had retired after over 25 years of service to the United Nations.
But what do you think is the main challenge in getting companies to subscribe to more sustainable principles?
I think many companies live in a very competitive world and every day is full of immediate, short term business challenges. Sometimes there isn't time to look up and ask what can be done in the long term that would make a business a really good corporate citizen, taking good care of trust, credibility and reputation, while helping to develop and grow in a way that competitors haven't thought about. Maybe for some companies it is difficult to take the time to think in these different perspectives.
Speaking of which, the dominant issue surrounding corporate integrity today is of course the Volkswagen scandal. Volkswagen is a Global Compact signatory. How are you dealing with that?
What we do is contact the company and start a dialogue around the problem. We would be very supportive and help the company, but we would also like to see a plan as to how the problem is going to be solved and what the company intends to do in terms of commitment to Global Compact in the future. That process has started with Volkswagen and now we would have to see what comes out of it. My hope is that they welcome this opportunity for dialogue and that we are seen as supportive. We like to say that Global Compact is now a watchdog, but is a guide dog. It's also important to say that the Global Compact is a voluntary initiative. Of course, if you don't live up to the principles, you cannot be a member of Global Compact. That's the simple version.
With the Volkswagen scandal there was massive public outrage. Over the weekend in Berlin huge demonstrations were organized to protest sweeping free trade deals like the TTIP and the CETA. Chief of the demonstrators' concerns is that the rights of businesses will supersede the rights of consumers and workers. How do you see the public's relationship with business in light of these concerns?
I can't really comment on what is happening to the TTIP in Germany, I don't have the necessary knowledge. But business is being entrusted with more and more responsibility. For instance it was clear that when the new SDGs were launched that all stakeholders in society would like business to contribute. They feel if business is not part of the SDGs, then they are not going to be come a reality. That is a general trend in society. But where this more responsibility more integrity is expected as well.
How does this apply to companies who profit from conflicts around the world, like arms manufacturers? What is the Global Compact's Role there?
We run a platform called Business For Peace which is an initiative to guide companies that are working in conflict zones. It has taken off very nicely, I think more than 200 companies are active and part of this. It will become an increasingly important tool as the SDGs become known on all continents. Peace is the overriding theme of all the SDGs. I think it's a new theme that more companies will think about – what their role is in specific zones across the world.
But is the Global Compact pressuring companies involved in companies to behave responsibly?
With the Business for Peace platform, we are certainly issuing guidelines to show responsible ways for companies to act. So again, we are the guide dogs, not the watchdogs, and I think that's an appropriate position to take for an organization which is part of the UN.
Let's look to the near future. The Paris climate negotiations are coming up in December. Global Compact in particular has fought to get carbon pricing on the table. How do you think the future of carbon pricing will look after COP21?
I think some years ago, when Georg Kell was heading Global Compact, carbon pricing was tough to talk about. It was still quite new and controversial, but I think he was definitely right in pushing that agenda. Today when you talk to various stakeholders in the climate agenda, people are pointing out that carbon pricing is already here.It exists in various parts of the world. The challenge is whether it will become a global pricing initiative. I'm hopeful about the climate talks in Paris, because I think we need a positive outcome now. I participated in COP15 in Copenhagen and that was such a disappointing experience. We need a positive, constructive, agreement, including a roadmap for the coming years.