Bayern's main task in this match was to tune up ahead of their decisive home Champions League match against Real Madrid on Tuesday. Meanwhile, Werder Bremen were out to avoid a 7-0 shellacking like the one they took from Bayern on their own home grounds last December.
And Werder served notice that they have become a more effective team with a nicely executed counter-attack after ten minutes. Defender Theodor Gebre Selassie got a rare goal to put the visitors ahead.
Franck Ribery - much criticized for his bloodless performance in Bayern's 1-0 loss in the away fixture against Real - leveled things ten minutes later. The Frenchman was sent through and nutmegged keeper Andreas Wolf in classic Ribery fashion.
But in the 36th minute, Werder regained the lead, again catching Munich out on the break. Aaron Hunt was the goal scorer. It was not the sort of defensive performance coach Pep Guardiola wanted to see ahead of Bayern's attempt to keep alive their chances of repeating last season's historic triple.
The second half was an entirely different matter. Nine minutes after the break, Claudio Pizarro restored order to the Bayern universe with a goal after a corner against his former team. And Pizza, as he's known, delivered again only three minutes later to put the hosts in front. Bastian Schweinsteiger also got in on the act with a goal on the hour mark. Arjen Robben added his name to the score sheet as well in the 74th minute.
"I'm a bit disappointed and sad about the first half," Pep Guardiola said in his post-match press conference. "The fans didn't deserve that."
Bremen can console themselves with the fact that at least they have no relegation worries. Bayern will happy to have warmed up their scoring boots, but they'll need to be a lot tighter on defense if they plan to prevail against Real.
Wolves miss golden opportunity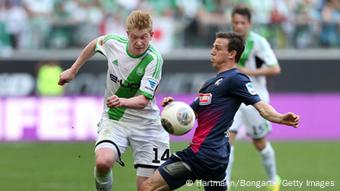 The Wolves couldn't put Freiburg away
With Leverkusen not playing Dortmund until later, Wolfsburg had the chance to claim fourth place - at least temporarily - at home against Freiburg. The Wolves dominated early on and nabbed a deserved lead when Ivan Perisic headed in a Ricardo Rodriguez free kick in the third minute.
But the hosts failed to extend their lead, and Freiburg gradually found their rhythm. After an hour Admir Mehmedi knotted things up with a low, hard shot into the near corner. Wolves keeper Max Grün will feel he probably should have done better.
Perisic restored Wolfsburg's advantage in the 70th minute, tapping home from point-blank range after a cross by Christian Träsch. Karim Guedé should have made it even again seconds later but somehow contrived to miss from inches.
Marco Terrazzino showed his teammate how it was done five minutes from time with a tightly angled shot from five meters out. Wolfsburg's Kevin de Bruyne hit the post in the dying seconds, but Freiburg hung on to book a 2-2 draw.
"It's tough to beat Freiburg - they've developed well," said Wolfsburg coach Dieter Hecking.
Freiburg bury any last relegation worries, while the Wolves squander a capital chance in their push for the Champions League.
Leverkusen get draw against Dortmund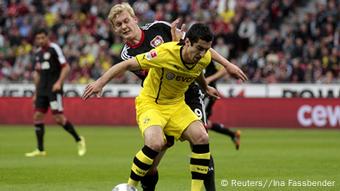 Dortmund and Leverkusen cancelled out one another
That result opened the door for fourth-placed Leverkusen to solidify their hold on their spot in the table - but only if they could get something at home against resurgent Dortmund. And their cause got off to an auspicious start when Lars Bender headed in from close range in after seven minutes.
Dortmund were unimpressed, and on the half hour mark, Oliver Kirch headed on a long-distance Marco Reus free kick to level the score.
Dortmund were dominating possession, but Leverkusen looked dangerous on the break. Only five minutes later, Gonzalo Castro buried a header to finish off a textbook counter-attack.
But the hosts' advantage was nullified five minutes before the break, when Roberto Hilbert handled the ball in the box. Reus calmly sunk the penalty, and the teams went into the dressing rooms tied.
The second half couldn't match the first for energy. The teams largely neutralized one another, and the match ended 2-2.
"The goals we conceded were irritating, but Dortmund are a great team who can exploit the smallest mistakes," Leverkusen Sascha Lewandowski said after the match.
Leverkusen stay one point ahead of Wolfsburg in fourth place and have the easier remaining two games. Meanwhile Dortmund look a good bet to finish second ahead of their archrivals Schalke.
Bottom two lose again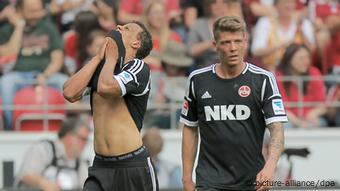 Nothing is going right for Nuremberg
There was no joy at the bottom of the table. Second-from-bottom Nuremberg went behind away in Mainz on first-half goals by Shinji Okazaki and Christoph Moritz. The Club, who ditched coach Gertjan Verbeek during the week, showed no signs of improvement, going down meekly in a 2-0 loss.
"I'm disappointed that Verbeek got fired," Nuremberg's top goal scorer Josip Drmic said after the match - much to the delight of Nuremberg's press coordinator, no doubt. "He was the coach who helped me progress. The fact that another coach is now on the sidelines is something you can feel this way or that about."
Braunschweig were able to keep a clean sheet in the first half of their away match against Hertha Berlin. But the Lions mustered little offense, and on the hour mark, Hertha defender John Anthony Brooks put the hosts ahead. Sami Allagui doubled Hertha's advantage ten minutes from time. The 2-0 defeat keeps Braunschweig dead last.
In a largely meaningless mid-table game, Hoffenheim and Frankfurt failed to score.
On Friday, Stuttgart and Hannover played out a scoreless draw in a match only a mother could love.
In Sunday's early match, relegation-threatened Hamburg will try to take a step toward survival. In the late match, Schalke continue their drive for the Champions League against fellow European aspirants Mönchengladbach.