Marita Innocent stands outside Npunguja Primary School, in southern Malawi. Marita is just 18 years old, but she has seen a lot of pain. Her mother fell ill when the teenager was in third grade and died soon after. Her father remarried and Marita says his new wife showed her nothing but neglect.
"That wife was providing for my father, as well as her children," she recalls. "Not for myself. So sometimes I would fall sleep without eating anything."
It was during this difficult time that a young man named Christopher came into Marita's life. Although she was just 15 at the time, Marita says that their relationship moved along quickly.
"He proposed to me and later on, he impregnated me," she says, in her native Chichewa language.
When Marita was five months pregnant, Christopher left her. She went from the life of a sixth grade student to that of a single mother, forced to stay home to care for her baby. She moved in with her grandmother.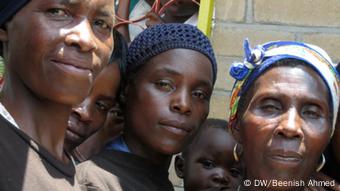 The ladies from Mother Group
A helping hand
Marita's story isn't a one-off in Malawi. In a country where girls are married off at a very young age and nearly a third of all women under the age of 18 are mothers, school drop-out rates are high. But, in Marita's case the story had a happy ending.
One day last year, some unexpected visitors came knocking at her door. It was a group of mothers from surrounding villages who said they would help her go back to school after two years away.
"I was hesitant at the beginning," she says. She worried about who would take care of her baby, Clare, but the Mother Group, as this outreach organization to keep girls in school is called, convinced her grandmother to care for Marita's daughter while Marita pursued her schooling.
The Mother Group is a network of 40 women who've teamed up to reach out to girls that have dropped out of Marita's school. The group was called into action through a Malawian NGO, the Creative Center for Community Mobilization, with support from UNICEF, but has since become relatively autonomous.
"After identifying some of the problems that they, the out-of-school girls, are going through, we as a Mother Group had to sit down to see what can we do," says Marcy Jawadu, a group member. The group wanted to help as many girls as possible so they came up with a plan to generate funds, a farm with easy-to-cultivate crops.
"We decided to go for this, because these crops don't require much," Jawadu explains. "You just put it in the ground, and at the end of the season, you have nuts and sourgum. So that's why we chose this initiative."
Its earned them about 15,000 Malawian kwatcha (26 euros) so far, a sum that's only enough to support three girls for one school year. When asked if the group considered any business venture besides farming to raise funds for the girls, the women explain that farming is the only thing they know.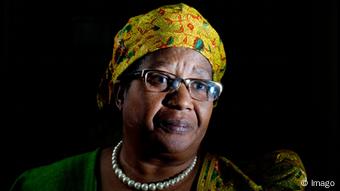 Malawi's President Joyce Banda says she had female friends who missed out on schooling
And that's why keeping girls in school is so important to Jawadu and her fellow Mother Group members. Many of them have learned first hand how difficult life can be for those who are not educated because they also dropped out of school when they were twelve or thirteen, and never earned a primary school certificate.
President also affected
The problem of early marriages and early pregnancies is widespread in Malawi. It even cuts close for the country's president, Joyce Banda. She tells the story of her primary school friend Chrissy who, despite being bright, was forced to drop out in 5th grade.
"She dropped out of school because her family couldn't raise the six dollars that she needed to go to secondary school," Banda told DW. "She got married at 15 and she's still where I left her. She has seven children, locked up in poverty, and I'm where I am."
And where Banda is at this moment is remarkable. The daughter of a musician in a police band, she is only the third female African head of state. It's the excruciating poverty Malawians face that pushes Malawians toward early marriages, the president says, especially for young girls.
"In a family, if there is no income or if there is little income, they would prefer to send the boy child to school, and leave the girl behind," Banda explains. "Secondary education in Malawi is not free, so the girls in Malawi are not going to secondary school.
Change on the way
But the problem even starts before secondary school, according to Herbert Jambo, the primary education advisor for this zone in Mangochi, in southern Malawi.
"After some surveys it was noted that in the lower primary here in Mangochi there are more girls than boys," Jambo says. "In the upper classes, we have the opposite - more boys and less girls."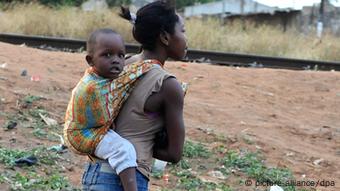 A high rate of teenage pregnancies is common in many parts of Africa, like here in Mozambique
Jambo says however that the trend is beginning to change. The numbers in the 17 schools that make up Jambo's administrative zone speak for themselves, he says.
"In 2012, we had 7790 boys and 7543 girls," he says. "Now, because of this intervention, we have seen that there is a tremendous change in enrollment in 2013." He says that the zone now has 8832 boys and 12,670 girls enrolled.
The change is due to girls being counseled back by groups of mothers, and other networks of teachers and students. The shift is something that makes Mother Group member Marcy Jawadu feel her work and donations have been worthwhile.
"Those girls we are putting into schools will be role models to future generations," Jawadu says.
Beenish Ahmed reported this story with support from a grant from the United Nations Foundation.