Traditional German food is usually a hearty meal - bratwurst, sauerkraut with pork knuckle or schnitzel. Although these traditional, often rich and fatty meals are still served across the country today, German eating habits have changed dramatically. Pizza, pasta, salad and sushi can now be found just as often on a menu as dumplings or smoked pork.
German cuisine has taken on many international influences and partially combined it with traditional and local dishes. For the "Michelin Guide" gastronomists who every year award stars to the best chefs in the world, new German cuisine appears to be very successful and palatable.
On France's heels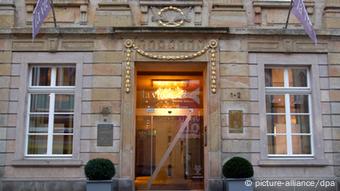 More and more German restaurants are home to Michelin stars
German restaurateurs have never been awarded as many stars as they have this year. A total of 274 chefs were decorated with at least one star - 11 of them carry the highest accolade of three stars. Of all the countries assessed, Germany ranked second, behind only France.
"This is a clear indication that German cuisine has developed dynamically," says Ralf Flinkenflügel, editor of the Michelin Guide in Germany. In the past five years, there has been an increase of more than 25 percent.
But why the dramatic improvement in the quality of Germany's top restaurants? Ralf Flinkenflügel identifies two reasons. "We have a generation of young chefs who have a top education; they are creative and do a fantastic job." What's more, demand for high-quality chefs is steadily rising, making way for further development.
Only the food counts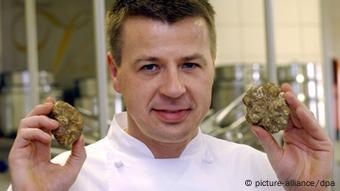 A meal at Wissler's joint could cost you over 300 euros
Stars awarded by the Michelin Guide are exclusively for the food served. The ambience of a particular restaurant or the service plays no role in the evaluation. The Michelin taste-testers are not to be seen - at least not officially. For attentive restaurateurs, however, it's still possible to spot the food critics.
Joachim Wissler, head-chef at the "Vendome" restaurant in Schloss Bensberg near Cologne - one of Germany's 11 three-star chefs - denies food critics are paid more attention than other guests. Everyday at his restaurant there are two or three tables of guests who could possibly be professional taste-testers. "It's not just about the Michelin Guide and three or four other restaurant critiques, you also have the people in the restaurant who share their experiences, create listings and rankings on a blog."
Quality has a price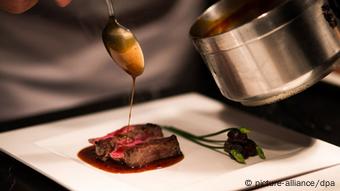 Bratwurst and sauerkraut make room for star-studded cuisine
Among Germany's best known restaurant critics is Heinz Horrmann. The journalist is known to many Germans from his television appearances as a cooking show judge. He explains how he evaluates a meal: "First of all I look at the meal. Next I assess the scent and then the palate." That's how the quality and interaction of flavors are assessed.
The superior quality of star cuisine has its price tag. Joachim Wissler's lunch menu costs 110 euros ($146) - including a glass of champagne. Evening meals are even more expensive - a meal can cost in excess of 230 euros, and the right type of wine to accompany it, another 90 euros.
The prices, says Wissler, are due to the high cost of personnel - which is necessary if you want to have a high quality restaurant. On top of that, of course, are the expensive ingredients. Having bratwurst and sauerkraut on the menu probably won't get you any Michelin stars though.