Social Democrat delegates have had their say: After a narrow vote of 56.1 percent, it's full steam ahead for talks to form a "grand coalition" (GroKo) with Chancellor Angela Merkel's conservatives. But before any deal is signed, 440,000 SPD members will have the final say. "GroKo or NoGroKo" — that will be the question. But that number of party members could be set to rise.
Read more: Germany's coalition talks: What happens next?
The figures might be relatively small for now, but since the SPD's party conference in Bonn on Sunday, party membership has taken a sudden upward turn. On Monday alone, the SPD in the southern German state of Bavaria reported 100 new online applications. In Berlin, 70 membership applications were submitted, while in neighboring Brandenburg, the SPD regional association welcomed 15 new members.
Read more: SPD delegates doubtful Martin Schulz can achieve a better coalition deal
Divide still deep
The sudden increase can be largely attributed to the narrow result on Sunday. There's nothing to say that the newcomers to the SPD pack are only against a new grand coalition.
The result of Sunday's in-party vote alone shows that the divide within SPD party ranks over "GroKo" is as stark as ever, with more than half still voting in favor of a new deal with acting chancellor Merkel.
Youth wing mobilzes campaign
However, beating a particularly loud "NoGroKo" drum is the SPD's youth wing "Jusos," which has already launched a campaign, calling on party supporters to join in order to exercise their right to vote on a future grand coalition.
Late Monday, Jusos leader Kevin Kühnert took to Twitter to reach out to new members.
"Anyone who joins the SPD can say 'Groko' or 'NoGroko' in a few weeks' time. This is a great reason to make an effort. Jusos is calling on new members who want to support us in the long-term to regenerate the SPD. This is what it's about," wrote Kühnert.
"This is your chance!" read an accompanying image. "Join. Participate. Have a say."
But whether or not the new members really are in fact interested in the long-term renewal of the SPD remains to be seen.
'A tenner against GroKo'
In the western German state of North Rhine-Westphalia (NRW), a much more drastic motive is apparent. Jusos wants "as many Groko critics in the party, so we can demolish the result in the membership decision," NRW youth wing chairmain Frederick Cordes, told the regional newspaper Rheinische Post.
Under the motto "A tenner against GroKo," Cordes plans to lead a nationwide campaign. Running with the fact that at €5 ($6.12) per month, new members could sign up for two months for just €10, which should allow time for coalition talks to be completed. However, it also indicates that immediate departures from the party are foreseen after members vote on a "GroKo" agreement.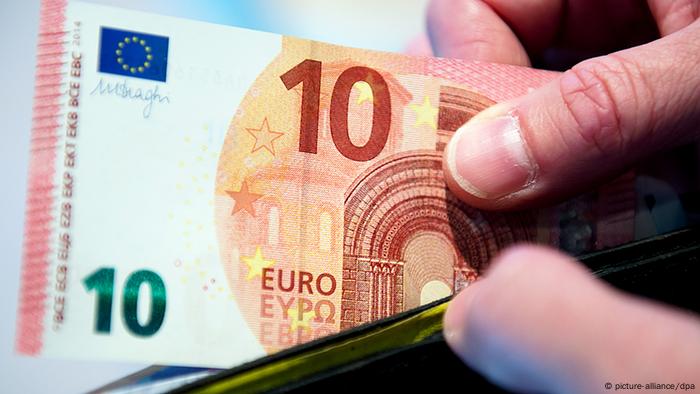 10 euros: The price to vote 'GroKo' or 'NoGroKo'?
Membership fees in the SPD are, in fact, based on monthly net income, with anyone earning up to €1,000 contributing just €5 monthly. But from members earning a post-tax salary of at least €4,000, the SPD expects contributions of anywhere between €100 and €250 per month. Members, however, are responsible for declaring the level of dues they will pay on registration.
Deadline day
Whether for or against a possible grand coalition, time is running out for new members, with a deadline for new registrations likely to be called in the middle of the negotiations, in order to prepare voting documents.
Read more: The major sticking points in Germany's upcoming coalition talks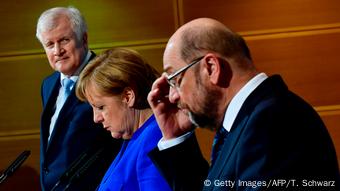 There's still a long road ahead for conservative leaders Horst Seehofer and Angela Merkel and Social Democrat leader Martin Schulz
In 2013, ahead of the formation of Germany's current acting government, some 78 percent of SPD members voted on whether to form a grand coalition — with around 76 percent voting in favor. But times have changed, and after walking away from September's election with just 20 percent of the vote – the party's worst result in postwar history – the SPD is keen to redefine its profile and remove itself from Merkel's conservatives.
However, with the SPD currently polling at just 18 percent – only six points ahead of the far-right AfD – it will be a huge leap of faith for the party to really jump from under the cozy conservative sheets to which "steady" Germany has become so used to.