Berlin didn't mince words: A "taboo" has been broken and "a crime against civilization" has been committed.
German Chancellor Angela Merkel and Foreign Minister Guido Westerwelle used the strongest possible terms to denounce the large-scale use of chemical weapons in Syria. Merkel's spokesperson added that this "must not remain without consequences. A very clear international response is necessary."
But both were careful not to spell out what that response could or should look like. Still, the German government will likely offer political support for limited military action against the Syrian regime if the evidence presented clearly identifies Assad's forces as responsible for launching the chemical attack in Ghouta.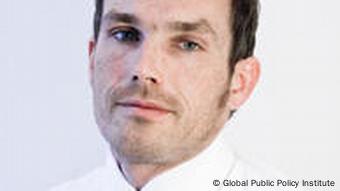 Thorsten Benner
Merkel and Westerwelle will back a military strike despite the fact that it will take place just weeks before the German general elections and that even limited strikes could lead to a regional escalation of violence that could engulf the German Patriot anti-missiles batteries and soldiers stationed in Turkey.
Worries about the aftermath
Notwithstanding its support for action, Berlin is concerned with the political fallout of any military strike and rightly so. UK Prime Minister David Cameron's announcement that Britain has drafted a resolution condemning the chemical weapons attacks by the Assad government to be placed before the UN Security Council's five permanent members for debate addresses one key German concern about the process to engage militarily in Syria.
Choosing to go the UN route now means that no military action will be launched without having made the case before the Security Council one more time. Should Russia and possibly China, presented with clear and credible evidence, still decide to veto the move to protect a government that brazenly used chemical weapons against its own people with UN inspectors present, it will speak for itself.
If it does come to a limited military strike without a UN mandate, Germany first of all should press the US and its allies to be honest about the rationale for and justification of any military action. In other words: state clearly and openly that this won't be a humanitarian intervention to protect civilians in Syria.
This would address misgivings voiced by human rights advocates like Kenneth Roth, the head of Human Rights Watch. Just today Roth asked on Twitter "US says it'll try to punish & deter Syria for chemical weapon use. But key is: will it better protect civilians?"
'Operation Restore Credibility'
The honest answer, however, is that the envisaged military action will not offer better protection for civilians in Syria. That's why "Operation Restore Credibility" would be a fitting code name for the coming airstrikes. It would make clear that protecting civilians is not the goal of this mission; protecting Obama's red line against the use of chemical weapons is.
Selling the mission instead under the broad "Responsibility to Protect" label would be disingenuous and hurt the legitimate cause of protecting civilians. While we are at it, we might also acknowledge that so far the international community has failed in its responsibility to protect Syrian civilians and try to draw lessons from our failure.
Berlin should also press Washington and London not to claim that an intervention without Security Council approval is covered by international law. It would be better to admit that the allies chose to act against the prevailing interpretation of international law due to exceptional circumstances. While this is a problematic argument in its own right, it's less pernicious than claiming that military action without a UN mandate is clearly legal.
No 'Kosovo model'
In addition, Germany should advocate against any loose talk of a "Kosovo model" for the Syrian intervention for the simple reason that there is no Kosovo model unless the West wants to actively pursue a partition of Syria and take responsibility for preventing human rights abuses carried out in its respective parts.
Instead, the US and its allies should use the air strikes to pursue a diplomatic solution to the Syrian civil war. Former UN Deputy Secretary-General Mark Malloch Brown spoke recently about "a slim chance that deft diplomatic action combined with a sharp, but limited, military response might bring all the parties to the peace table." Berlin should provide some of this "deft diplomatic action" which could include reaching out to Moscow and to Tehran to make clear that regime change is not the primary and immediate goal of the strikes against the Syrian government.
This will be a tough challenge: First, because Washington's track record in Libya and elsewhere speaks for itself. And second, because obstructionism for its own sake is part of Russia's diplomatic logic. To show that regime change is not the goal, the West should not beef up its military support for the opposition in the aftermath of the airstrikes.
Help the Syrians
If, however, the analysis of former State Department official Jeremy Shapiro is accurate, and Moscow's prime motivation is not to keep Assad in power at all costs but rather its fear that Washington's ultimate goal is coercive regime change, with all the havoc and bloodshed that could wreak in the region, there might even be an opening for reviving the diplomatic route via talks between all parties in Geneva, which should include Iran.
Finally, the German government should step up its efforts to address the humanitarian crisis which only promises to get worse in the coming months. Berlin should massively increase its intake of Syrian refugees and its support to organizations providing assistance in Jordan and Turkey. And German citizens should increase their donations for humanitarian organizations operating close to the Syrian border and within Syria. If Germany rightly asserts that the planned military intervention can't credibly protect civilians throughout Syria then it has the duty to prove at the same time that it does its utmost to address the humanitarian needs of the Syrian people.
Thorsten Benner is director of the Global Public Policy Institute (GPPi) in Berlin and a co-author of "The New World of UN Peace Operations: Learning to Build Peace?"