The euro is ill. Doctors and nurses are carrying it up the stairs on a stretcher and IV tubes are hanging from the weak European currency as it fights for its life. "Don't give up; we're nearly there," says the nurse. But the stairs go round and round without actually getting higher, so the euro will never make much progress.
It was with this cartoon that German illustrator Gerhard Mester commented on Europe's economic recovery efforts last year. The jury for Rückblende 2012, one of Germany's most important awards for political cartoons, recognized Mester with first prize.
"Political cartoons always comment on current events. They take a position and analyze the situation," said jury member Ulrich Op de Hipt. He curates the political cartoons collection at the Haus der Geschichte museum in Bonn, which houses the largest set of political illustrations produced since 1945 in Germany.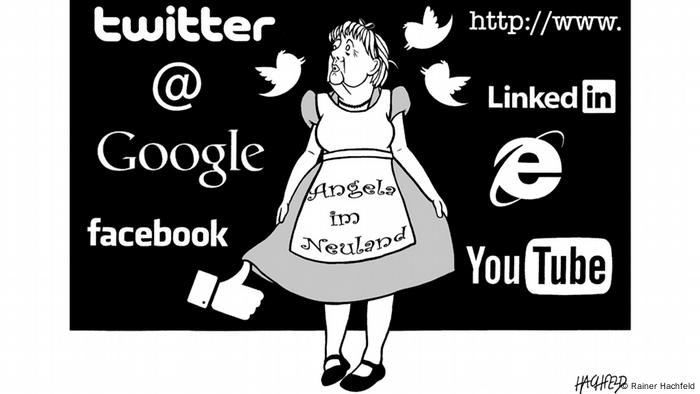 Rainer Hachfeld commented on Chancellor Angela Merkel's speech about the uncharted territory of the Internet
A crumbling industry
For Gerhard Mester, the prize gave him a boost in his everyday work. "My standing in the editorial department is better," he added.
For others in his profession, the times have become precarious. Newspapers continue to give opinionated illustrations a prominent position - but newspapers are dying out.
Internet publications have yet to establish a lucrative business model for illustrators, says award-winning German cartoonist Rainer Hachfeld. Political cartoons are rare online, and if they are used, then usually not very prominently.
Another hurdle is that the established German cartoonists are getting older and there is a shortage of young illustrators to take over. Young illustrators seek out alternative ways of making money - like in advertising.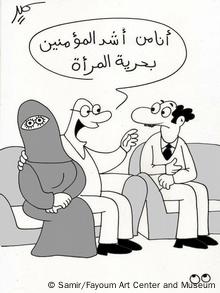 'Personally, I believe in freedom for women': a drawing by Egyptian cartoonist Samir
"The cartoonist who draws political cartoons for daily newspapers is dying out," concluded Rainer Hachfeld.
But the slow demise of opinionated sketches can be attributed to their shallow roots. "In Germany, political cartoons were never taken as seriously as in other countries," Hachfeld explained.
Political cartoons play a particularly important role in the Anglo-Saxon and the French press and were brought to Germany by the British occupation troops after World War II.
Africa's political cartoons
Outside Europe too, political cartoons are more widespread than in Germany. Rainer Hachfeld was a member of the jury for this year's cartoon prize by the Dritte Welt Journalisten Netz (DWJN - Third World Journalists' Network) and was impressed by his conversations with African illustrators.
"They are taken more seriously," said Hachfeld. "Print media has an even stronger influence than it does here."
Annette Hornung-Pickert from DWJN agreed that cartoons play an important role in political debates in countries like Kenya, Tanzania and South Africa. But for courageous caricatures, she says, Africa still needs more publishers with the guts to stand behind their illustrators. In some countries, taboo topics like religion aren't even addressed.
Hornung-Pickert says she has the impression that political drawings have greater significance in countries where British media is prevalent. But, says Mohamed Abla, political cartoons aren't simply a European import.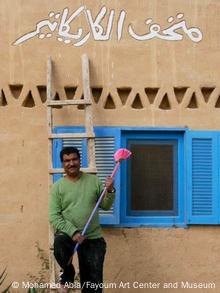 Mohamed Abla's museum is the only one of its kind
Abla, an Egyptian artist and art collector, launched an unusual project in the Faiyum Oasis near Cairo: the only museum for political cartoons in the Arab World. "There have been political cartoons in Egypt since the time of the pharaohs," said Abla.
Political drawings continue to play an important role in Egyptian newspapers. "You can say a lot with cartoons. A lot of people understand more from them than from reading texts," he added.
Young artist with opinions
In Egypt, the number of cartoonists is growing. "There are many young men and women who are active. For them, the Internet plays an important role in getting reactions," commented Abla.
This development can be attributed to the political changes caused by the recent Arab Revolution. Now, illustrators can express their opinions much more openly than they could in the past.
"Freedom of speech is the most important prerequisite for political cartoons," said Ulrich Op de Hipt.
In places where freedom of expression is limited, cartoonists can face charges of libel or even imprisonment. In China, for example, political illustrators cannot work openly, lest they risk severe punishment.
In Syria in 2011, caricaturist Ali Ferzat was tortured - for allegedly offending President Bashar al-Assad. Today he lives in exile and continues to draw. His case makes it clear that cartoonists' critical commentary is indispensible to political and social change.