Ahead of his trip, Jung said he would use his term in office to work for better mutual understanding between the United States and Germany. And such was the tone of his meeting with Rumsfeld. After 90 minutes of talks, which did not touch on the more contentious issues in current German-US relations, Jung made it clear that Berlin and Washington planned to use their clean slate to improve bi-lateral relations.
"I think that the army and security issues should be left out of the political strife," he said. "But I am telling you nothing new when I say that German-US relations needs to be improved, and they will be improved."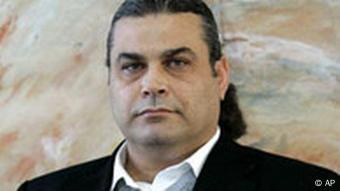 El-Masri claims the CIA abducted and wrongfully imprisoned him
Jung indicated that he had not seen any need for a further discussion of the clandestine CIA flights over Europe, nor did he raise the subject of the CIA abduction of the Lebanese-born German citizen Khaled el-Masri, a topic which was discussed at great length between Germany's Chancellor Angela Merkel and Condoleezza Rice during her recent visit to Berlin.
Still no German troops for Iraq
The new face of German defense issues stressed Berlin's commitment to training Iraqi security forces, but said that the new German government would stick to the last coalition's policy of not sending troops to Iraq.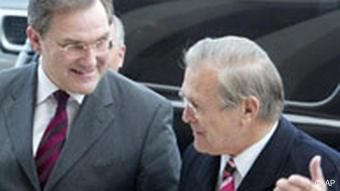 US Defense Secretary Rumsfeld welcomes his German counterpart
"I am glad that the US government respects our position and the fact that we will not cross this red line," Jung said, adding that Washington clearly has great respect for the work Germany is doing in "training Iraqi security forces in the United Arab Emirates and at the Bundeswehr Academy in Garmisch."
Jung also made it clear that Germany would continue to supply the largest single troop contingent to ISAF, the NATO stabilization force in Afghanistan, and followed up on former Chancellor Gerhard Schröder's suggestion to use NATO as a forum for strategic debate and political discussion. Washington has been reluctant to go along the proposal on the grounds that fact NATO is first and foremost a military body.
Iran under mutual fire
In her meeting with Jung, Rice reiterated her support for European efforts to resolve the standoff with Iran over its nuclear ambitions. Germany, France and Britain make up the EU-3 group which has been trying to negotiate a guarantee from Tehran that Iran will not develop nuclear weapons.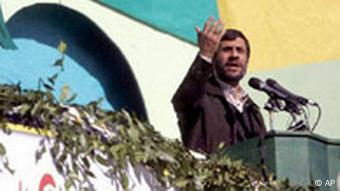 Mahmoud Ahmadinejad said Israel should be "wiped off the map"
A spokeswoman for the US state department said that Jung and Rice had mutually criticized Iran for recent remarks by President Mahmoud Ahmadinejad, who claimed that the Jewish Holocaust never took place and said that Israel should be moved to Alaska.
"They agreed that the statements of the Iranian president regarding Israel are disturbing and need to be condemned," the spokeswoman said.
Israel warns Europe over Iran
Meanwhile, Israel's ambassador to Germany, Shimon Stein, has warned European governments to be ready to take "concrete measures" against Iran in response to Ahmadinejad's statements dismissing the Holocaust as a myth.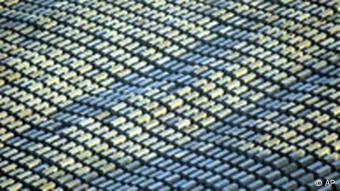 Berlin's Holocaust Memorial for the Murdered Jews in Europe
Stein said Israel welcomed Germany's rejection of Ahmadinejad's comments as unacceptable, but added that "the big question is, whether concrete measures will be taken beyond declarations."
German Chancellor Angela Merkel is scheduled to visit Israel next month, in part to show Germany's solidarity with Israel.