German soldiers do not have enough protective vests, winter clothing and tents to head NATO's 'spearhead force,' the newspaper Rheinische Post reported on Monday, citing a paper presented to the Defense Ministry.
The news comes as Germany prepares to take over the leadership of the multinational Very High Readiness Joint Task Force (VJTF) Army Command at the start of next year, with Defense Minister Ursula von der Leyen (top picture) under intense pressure to bring equipment up to scratch by then.
Read more: Defense Minister Ursula von der Leyen: Germany will spend more on its military
The Very High Readiness Joint Task Force is deployed on NATO's eastern flank
Commenting on the article on Monday, Germany's Defense Ministry said that combat readiness of German troops would be ensured.
"Currently, the selected troops are going through the phase of preparation and mobilization," spokesman Jens Flosdorff said in Berlin. During this phase, the ministry is checking which equipment is already available, and "what is still needed," he said.
The authorities are set to complete the process by the end of 2018, at the latest.
Flosdorff also said that "Bundeswehr is ready and able to fulfill its commitments," and that the missing items "are being procured."
Sleeping cold
The Monday report cites the internal paper by Germany's Army Command as stating that the army would lack sufficient tents until at least 2021.
According to the Army Command report, 10,282 mobile "accommodation units" are needed for the army's deployment in the VJTF for the period 2018 to 2020, but only 2,500 are currently available — and even these are not fit for purpose.
Protective vests and winter clothing were also in such short supply that it would be "impossible" to ensure that demands were met, it said.
Last week, German media reported that the Bundeswehr was also lacking sufficient tanks and operational aircraft to fulfill its duties as VJTF leader, along with other equipment shortfalls such as night-vision equipment and automatic grenade launchers.
Read more: German military short on tanks for NATO mission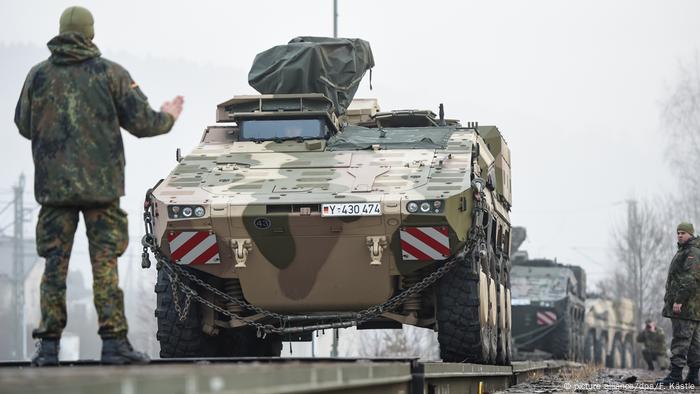 Some 500 German soldiers are currently posted on NATO's eastern flank - but tanks are in short supply
'Scandalous situation'
The Rheinische Post said German parliamentarians reacted with outrage to news of the latest deficiencies.
"We cannot and will not accept" such supply gaps, said defense expert Fritz Felgentreu from the Social Democratic Party (SPD).
The Free Democrat (FDP) politician Marie-Agnes Strack-Zimmermann found even stronger words.
"The fact that even basic equipment such as protective vests and winter clothing is in short supply shows what a miserable state the Bundeswehr is in as a result of cutting costs," she said, adding that her party would set up a subcommittee to "look into this scandalous situation" at the next meeting of the Bundestag's Defense Committee.
The VJTF is a 5,000-strong force initiated by NATO in 2014 to counter the threat of Russian military aggression against Baltic member states. The force is supposed to be capable of going into action within 24 hours.
Each evening at 1830 UTC, DW's editors send out a selection of the day's hard news and quality feature journalism. You can sign up to receive it directly here.