Germany's men's eight captured gold in the World Rowing Championship on Saturday, taking home the gold medal for the second year in a row.
With a winning time of five minutes and 24.31 seconds, the German men's team finished two seconds ahead of Australia and Great Britain, who took second and third place in a closely run race for the silver medal.
Rowers had to contend with breezy conditions and steaming temperatures in the Bulgarian city of Plovdiv, where the World Rowing Championship is taking place. Temperatures reportedly reached 28 degrees Celsius (82 degrees Fahrenheit) in the shade.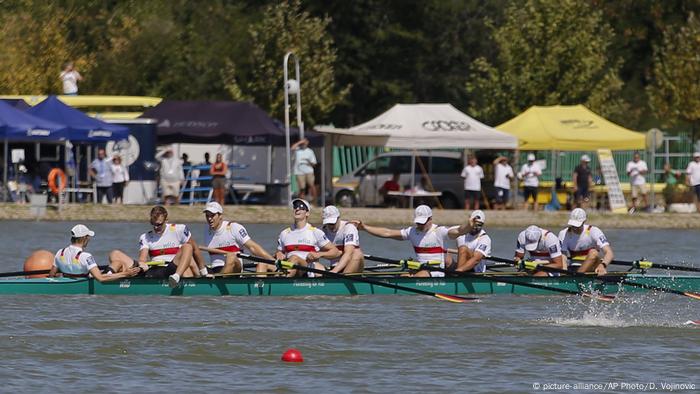 Teams had to deal with rough water and steamy temperatures for the Men's Eight final race in Plovdiv, Bulgaria
Members of the German team noted that rough conditions on the water and stiff competition from the other teams made their win particularly challenging this year.
"We went really well until the 1,500 meters, but after that, we had some trouble with the rough water. It's been a tough year with some really tough races. Many eights have improved their crews this year," Germany's Martin Sauer said following the race.
It's the first time that Germany's men's eight team has taken home gold for two consecutive years in a row.
On Saturday, Germany's women's quadruple sculls team took silver in a race that saw Poland's team winning gold and the Netherlands winning the bronze.
rs/ng (dpa, SID)