The summer of success continues for Germany, who beat Portugal 1-0 on Thursday in the European Championship final in Budapest. Hertha Berlin midfielder Hany Mukhtar was the difference in a match that, while close, was often in Germany's favor.
Marcus Sorg's youngsters had plenty opportunities to go ahead early on, but it took until the 39th minute to get on the scoresheet. This time it wasn't tournament leading scorer Davie Selke of Werder Bremen, but Mukhtar was first to meet Marc Stendera's cross into the box.
Mukhtar fought past his defender and stuck out a leg, managing to redirect the ball into the net with his shin.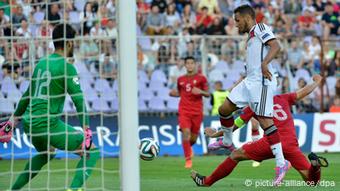 Mukhtar's first-half goal was the difference for Germany
The second half required defensive heroics around the hour mark for Germany to keep their clean sheet. Portugal were unlucky not to equalize after a barrage of shots were blocked by goalkeeper Oliver Schnitzler and Joshua Kimmich.
Germany produced some of their best opportunities late on in the match, particularly through Bayer Leverkusen's Julian Brand, but it finished 1-0.
"The team won the title and I played my part," said a humble Mukhtar after the match.
The victory gives Germany their second ever under-19 European Championship title after their triumph in 2008. That tournament six years ago also marked the last time the Germans had qualified for the competition until 2014.
"We are unbelievably happy," said Sorg. "The boys earned this title and never gave up. I am really proud to be the coach of this team."
Senior team coach Joachim Löw offered his praise after the final whistle.
"Many congratulations to everyone who who was part of this success," he told Germany's DFB football association website. "The team had a terrific tournament - the European Championship showed that German football can look forward to new great talent."