German Chancellor Angela Merkel's government will begin discussing the future role of Germany in Afghanistan next week. And speculation abounds that the government plans to increase the number of troops in Afghanistan when the current mandate runs out in October.
One member of parliament who requested anonymity told Reuters that top politicians in the Germany's ruling coalition will begin discussing changes to the current mission next week. It was not clear whether or by how much the number of troops would increase.
"It's too early to speculate on what a new mandate might look like," Guenter Gloser, a minister of state in the German foreign ministry, said.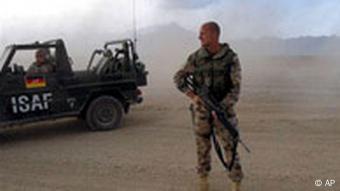 Germany has said it won't send more troops
Media reports have speculated that Germany could send 500 to 1,000 additional soldiers and could also increase the geographical area where they are deployed within Afghanistan. The government has denied these reports.
Germany's existing mandate allows for up to 3,500 soldiers to work out of the relatively peaceful northern part of the country. Berlin is under pressure from the United States and other NATO allies to take a more active role in the southern part of the country. Germany recently promised about 200 combat troops as part of a quick response force.
Limited mandate
Many European countries have been reluctant to commit more troops to the mission in Afghanistan. At a NATO meeting in Vilnius last week France, Romania, Poland and Norway signaled they could increase their participation. Yet this was hardly the level of support hoped for by the US.
German public opinion is strongly anti-war
More than six years have passed since the US brought down the Taliban regime in an effort to put an end to al Qaeda. While the Taliban has been ousted from power, it remains strong, particularly in the south of the country where it controls many roads and runs its own checkpoints.
NATO's International Security Assistance Force (ISAF) has quadrupled to 43,000 troops in four years. US Undersecretary of State Nicholas Burns said in a speech earlier this week that nine of NATO's members were carrying 95 percent of the burden in Afghanistan.
NATO needs all help it can get
Yet ISAF lacks troops and equipment which is "hurting military efforts to defeat the enemy," Burns said.
"NATO never fought a ground war until the Afghanistan war," Burns said. "NATO's future is so much on the line."
Britain's Paddy Ashdown, a former United Nations envoy to Bosnia who withdrew as a "super envoy" to Afghanistan, said defeat is a possibility for NATO. Forces there are in disarray and the security situation is deteriorating, Ashdown wrote in a Financial Times opinion piece published Wednesday, Feb. 13.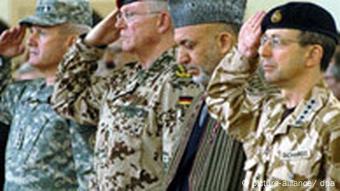 There have been calls for better coordination
Britain feels maxed out with 7,800 troops in Afghanistan and 4,500 in Iraq. Canada and the Netherlands, which also have troops in southern Afghanistan, have suffered too many casualties and have domestic resistance to increasing troops.
That has increased pressure on France and Germany, neither of which has troops in the south. It's thought that Merkel and France's Nicolas Sarkozy will want to bring promises of additional troops to a NATO summit in Bucharest in April.
"Super envoy" badly needed
The US's Burns also said it was necessary for the UN to speedily appoint a strong "super envoy" with a centralized mandate. A "super envoy" would coordinate military, aid and development activities which are seen as important to counter insurgency.
Ashdown withdrew his name after Afghan President Hamid Karzai opposed the appointment. UN and NATO sources expect it to take weeks to find a viable substitute.