The German Interior Ministry has announced it will sell 2,000 bunkers and shelters formerly in place to protect civilians. The ministry said such rooms were no longer necessary because threat scenarios had changed.

Though the ministry made the decision in May, the Bonn-based German Federal Office of Civil Protection and Disaster Assistance (BKK) only announced the move this week.

The BKK said the shelters would not offer sufficient protection in the face of terrorist attacks and added that only a portion of the German population would find space in the rooms.
Millions in maintenance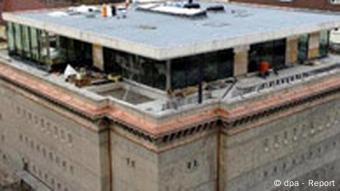 Some said other uses could be found for the structures, like this bunker turned penthouse

Maintenance for the bunkers and shelters has cost the government 2 million euros ($2.7 million) per year.

BKK spokeswoman Ursula Fuchs said the Institute for Federal Real Estate would take care of selling the government-owned bunkers.

Shelters to be sold also include those located in subway stations in several major cities.

Most of the protective structures were built during World War II. Some of them were integrated into an "Emergency Program" developed during the Korean War in the 1950s.

Additional bunkers were refurbished and expanded in the 1960s during the Cuban missile crisis when the Cold War came closest to escalating into a nuclear war.

Following the end of the Cold War, programs for refurbishing bunkers and other projects for installing civilian shelters came to a halt in the 1990s.
Some historians have said they hope at least some of the bunkers will be kept intact so future generations can visit the structures and see information material common when the bunkers were built, such as a poster of a man hiding behind a tree with his briefcase in front of his head. The poster's headline read, "You're better protected this way!"
This year a bunker near Bonn, the former capital of West Germany, that would have housed West German government officials in the case of nuclear attack will be opened as a museum documenting the Cold War.