German Defense Minister Thomas de Maiziere on Friday reiterated Berlin's rejection of the idea of using a military mission to end the bloodshed in Syria.
Given the fact that heavy fighting is now reported in the capital, Damascus, de Maiziere told German public television that the idea of sending in an international combat force was even less practical than before.
"We are talking about a very complicated conflict, about house-to-house combat," the defense minister told ARD television.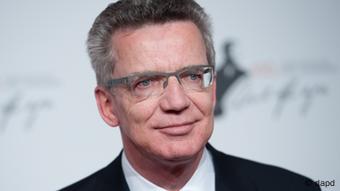 De Maiziere: Bundeswehr could contribute to humanitarian mission
"Outside intervention in such house-to-house combat is about as complicated as it gets," de Maiziere said, adding that such a mission could be expected to produce a high number of casualties. An air campaign without the support of ground troops, he said, would be completely useless.
At the same time, though, the defense minister didn't rule out the possibility of German forces taking part in a humanitarian mission.
"When it comes to humanitarian aid, every available German ship is ready to help in case of a human catastrophe," de Maiziere said.
He also pointed out that the United Nations Security Council, which would normally have to pass a resolution authorizing an international military mission in Syria, was a long way from an agreement.
Latest UN Security Council resolution voted down
The German defense minister's words appear to counter fears expressed by Russia in particular that Western-sponsored draft Security Council resolutions against Syria could be used to justify the use of force.
De Maiziere was speaking just hours after Russia and China voted down the latest draft that would have threatened the regime of Syrian President Bashar al-Assad with sanctions, if it failed to stop the bloodshed.
The Security Council on Friday voted unanimously in favor of a British resolution that extends by 30 days the mandate of the 300-strong UN observer mission in Syria. If there is no progress toward a political solution of the conflict over the next month, the observers are to be withdrawn when their mandate expires.
Ongoing violence
Meanwhile, clashes between government forces and rebel fighters were reported in the capital, Damascus.
The Syrian Observatory for Human rights said in a statement that government soldiers had launched an assault on the district of Jubar in the east of the capital.
"Syrian regular forces, including trucks and cars packed with heavily armed men, stormed the district of Jubar," the London-based watchdog said.
Syrian state television earlier reported that government forces had "cleansed" the southern Damascus district of Midan.
The Observatory also reported that more than 300 people had been killed in Syria on Thursday, which would make it the deadliest single day since the uprising began with protests against the Assad regime 16 months ago.
These, like most other figures coming out of Syria are virtually impossible to independently verify due to severe restrictions on journalists reporting from the country.
pfd/msh (AFP, Reuters)