"The cabinet today agreed to the recognition of the Republic of Kosovo under international law and the start of diplomatic relations," government spokesman Ulrich Wilhelm said in a statement.
The German government's decision is expected to be relayed by letter by President Horst Koehler to his Kosovar counterpart Fatmir Sejdiu on Wednesday, Feb. 20, paving the way for the taking up of diplomatic relations between Berlin and Pristina.
Germany joins other major European powers, France and Britain, in recognizing Kosovo's independence. The United States was one of the first states to recognize Kosovo's independence on Monday. Serbia has also recalled its ambassadors from Washington and Paris.
Kosovo unilaterally announced its official split from Serbia on Sunday, despite strong opposition from Belgrade and Moscow.
EU mission also gets underway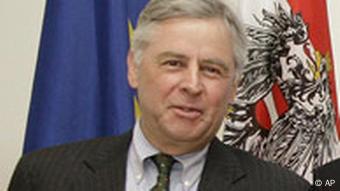 Pieter Feith is the EU's man in Kosovo
The EU's envoy Pieter Feith has also announced the start of his mandate as the bloc's special representative to the territory.
"I'm now deploying my office as the special representative of the European Union, and we are also building up the office of the international civil representative," said Feith after meeting the Kosovar president on Wednesday.
He also announced that the 2,000-strong police and judicial team intended to smooth Kosovo's transition to a democratic republic would start deployment in the coming weeks.
"We will be deployed all over the territory of Kosovo," he added, clearly indicating that the mission -- known as EULEX -- will be present in minority ethnic Serb districts that oppose independence.
Feith also reassured Sejdiu that NATO troops would not withdraw from the north despite the Tuesday's outbreak of violence at the border between Serbia and Kosovo.
Kosovo-Serbia border remains closed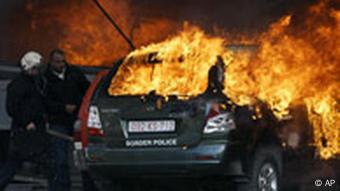 Kosovo's birth has already been marred by violence
UN police pulled back from the Jarinje and Zubin Potok crossings after hundreds of Serbs ran amok, torching border installations. But NATO forces moved in and sealed the border, which currently remains closed.
Most Serbian newspapers have welcomed the development. The Kosovar president has appealed for calm.
The EU envoy has declared that there will be a transitional period of 120 days in which the United Nations, which has administered the territory for the last nine years, and NATO-led KFOR forces would remain in "operational control."
Russian foreign policy spokesman Mikhail Kaminin reiterated Russia's opposition to the mission on Wednesday, saying it had absolutely no legal basis.
Kosovo has been a UN protectorate since 1999 when NATO carried out bombing raids to end a conflict between Serbian security forces and ethnic Albanian separatists. Technically, however, it remained part of Serbia.