German Chancellor Angela Merkel on Saturday sent her condolences to Poland after the death of the president.
"All of Germany stands by Poland with empathy and solidarity in this difficult hour," Merkel wrote in a letter to Polish Prime Minister Donald Tusk.
Tusk was reportedly in tears when he given the news of the fatal air crash. He has called an emergency meeting of ministers.
Kaczynski was among scores killed when his plane crashed on approach to its destination in Smolensk.
"I am deeply upset about the crash and the death of the Polish president," Merkel said on the sidelines of a visit to an army commando unit near to Potsdam.
Foreign minister Guido Westerwelle also expressed shock and grief on behalf of Germany.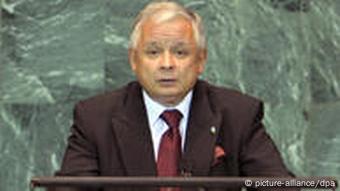 The president was part of an 85-strong delegation
"We are shocked and filled with grief," he said while on a visit to South Africa. "The entire German people are grieving with their Polish neighbors. We want the Polish people to know that we are standing by their side."
Leading figures lost
The crash also killed Kaczynski's wife Maria, Polish central bank governor Slawomir Skrzypek, army chief of staff Franciszek Gagor and MPs and historians.
They were part of an 85-strong delegation marking the 70th anniversary of the WWII Soviet slaughter of 22,000 Polish officers and intellectuals in the Katyn forest near Smolensk.
Poland's former president Lech Walesa expressed profound shock at "an inconceivable tragedy, an inconceivable disaster."
"The Soviets killed Polish elites in Katyn 70 years ago. Today, the Polish elite died there while getting ready to pay homage to the Poles killed there."
rc/AP/AFP/Reuters
Editor: Sonia Phalnikar