German Interior Minister Thomas de Maiziere on Tuesday told Austria's ORF television that Berlin may end temporary border controls if the number of migrant arrivals stayed low.
"According to the current estimate, if the numbers remain this low, we would not continue border controls beyond May 12," de Maiziere said.
The minister said migrants entering Germany via Austria had fallen to zero, a stark contrast to last year, when thousands arrived daily. He added that in March, the average had dropped to roughly 140 per day.
Dead end
By tightening its borders, Austria played an instrumental role in closing down the so-called Balkan route, which was used by hundreds of thousands of migrants to reach wealthy EU nations, including Germany and Sweden, from Greece.
In 2015, more than one million migrants arrived in Germany, many fleeing war-torn countries in the Middle East, Asia and Africa.
However, German Chancellor Angela Merkel's open-door policy for asylum seekers has come under criticism from fellow lawmakers, including Bavarian State Premier Horst Seehofer, the leader of the Christian Social Union (CSU).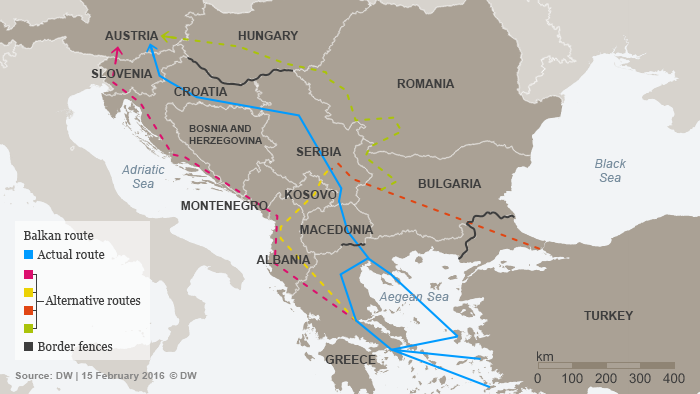 1.2 million migrants have arrived in the EU since 2015, with most taking the so-called Balkan route
Italy: A new route in the making
De Maiziere's statement is a significant shift from his January announcement that Berlin would extend border controls indefinitely. But a new migration route may threaten the minister's plans to drop border controls in May.
The interior minister warned Italy that it could face transit restrictions at the Brenner crossing, a crucial gateway for goods flowing from the frontline country northwards to Austria and Germany.
"We hope that it will not have to be necessary to decide on such matters," de Maiziere said. "That is assuming that the numbers coming to Italy are not too high. That is assuming that Italy fulfils its obligations."
ls/bw (Reuters, AFP)