Agriculture Minister Ilse Aigner launched in Berlin on Tuesday an initiative to reduce the amount of food thrown away in Germany, in a bid to combat an increasing problem of which she said the population was simply unaware.
"We have become a society of abundance and harbor a throw-away mentality," Aigner told journalists," after announcing that over 11 million kilograms of food were thrown away per year in Germany - well over of half (60 percent) of which is from private households.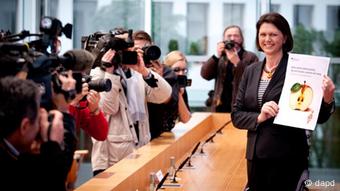 Aigner's "too good for the bin" initiative will try to educate Germans
The findings suggested that another 20 percent of food waste came from grocery markets, with 17 percent coming from larger consumers such as restaurants and cafeterias.
The study, conducted by the waste management department at Stuttgart University, said that over half of the food thrown away in German households was still edible, prompting Aigner to call for a change in the way the population views and deals with food in the face of the world's ongoing problems with hunger.
Change in mentality
She said it was high time for Germans to realize that wasting food was "unacceptable at a time when hunger remained so predominant throughout the world," and that the government was ready to help provide the necessary information.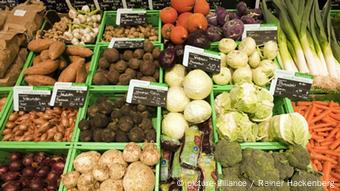 Vegetables make up the majority of food waste in Germany
The federal agriculture ministry is planning as part of its "too good for the bin" initiative a website where Germans can read about what foods are to be thrown away when, and what exactly is meant by the "best before date" (MHD) on all food products that could potentially expire.
"Obviously you throw away a banana when it's rotten," said Martin Kranert, chair of Stuttgart University's waste management department, when asked by DW what information Germans still lack with regard to food waste.
"But we found in our study that many people believed they should throw away products as soon as the MHD has expired. This is not at all the case, and such a persisting lack of knowledge is the first thing that has to change," Kranert said.
Wasting resources
The study also stressed the financial impact of throwing away usable products, concluding that the average German throws away some 235 euros per year, or 20 billion euros Germany-wide.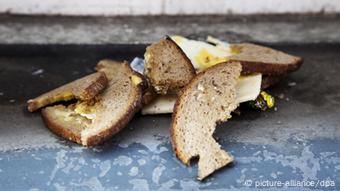 The BVE complained of Germany's 'throw-away culture'
Peter Feller, director of Germany's Federation of Food and Drink Industries (BVE), said that one of the reasons Germans throw away so much food is quite simply that food is "too cheap."
"Consumers wouldn't throw away as much food as they do if it cost more. Of course there are many reasons, but the cheapness of food products has certainly contributed to our throw-away culture," Feller said in an interview with DW.
The agriculture ministry has organized a symposium for the end of this month during which representatives from politics, business and NGOs are to go over ways to make information on food waste more accessible to the population.
Author: Gabriel Borrud
Editor: Joanna Impey