Germany's business friendly Free Democratic Party (FDP) has defended one of its hijab-wearing Muslim candidates after her electoral poster sparked hostile reactions on social media.
Aygül Kilic, a candidate for a local election in the northern German city of Neumünster, posted a photo of the poster on her personal Facebook account on March 25.
Critical comments and posts quickly spread on Facebook and Twitter, with many people questioning how the FDP could condone a candidate that wore an allegedly oppressive and illiberal form of Islamic clothing.
Read more: German court allows courtroom headscarf ban
'Right-wing' reaction
The local FDP party in Neumünster released a statement defending Kilic against what it said were "hateful" and "right-wing" comments.
"The Free Democrats in Neumünster have been subject to strong criticism and hateful comments that clearly have right-wing origins," the party said.
"The people who are progressive and liberal are those who DON'T recommend or dictate to people from other cultures, religions or nationalities what to wear," it added.
Read more: I'm an Arab woman; am I oppressed?
National reactions
National lawmakers also weighed in on the controversy.
Beatrix von Storch from the far-right Alternative for Germany (AfD) asked in an ostensibly sarcastic Twitter post whether Kilic rejected traditional Islamic law that "legally declares Christians and Jews second-class citizens."
FDP lawmaker Konstantin Kuhle defended Kilic, writing he was "proud to belong to a party that gave women like Aygül Kilic the opportunity to be a part of the political decision-making process."
Read more: Germany's AfD wants ban on wearing a headscarf in street
'Go to hell'
FDP deputy leader Wolfgang Kubicki had harsher words.
Speaking to German daily newspaper Die Welt, he said: "Whoever vilifies a Muslim candidate with or without a headscarf should go to hell. We'd rather do without votes than betray our values."
The newspaper's outspoken pro-FDP editor, Ulf Poschardt, gave his two cents as well, calling on Kilic's supporters to resist "intimidation." All liberals, he added, knew "what happens under the headscarf is what's important."
Kilic, who is standing for an election on May 6, has yet to respond to the outcry.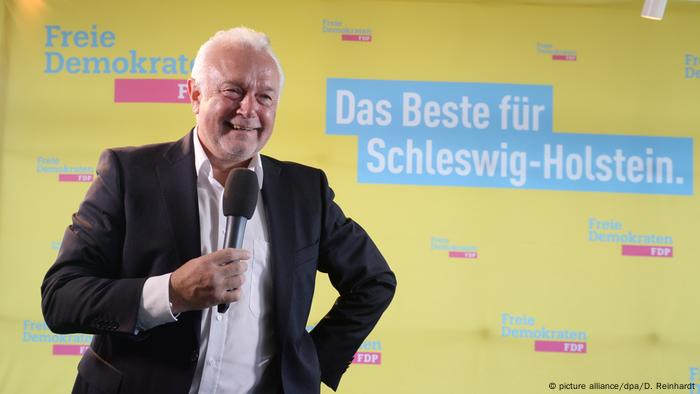 Wolfgang Kubicki took a clear position against Kilic's critics
Read more: Berlin court rules in favor of hijab-wearing teacher