Germany's media were in a reflective mood Monday following German athletes' slim five-medal haul at the recent Helsinki Athletic Championships.
"Are we only capable of throwing and pushing?" asked Bild, the country's most popular newspaper. "Where would German athletics be if we did not have these strong men and women?"
"Just throwing experts"
All five medals were collected in field events with Franka Dietzsch, 37, taking gold in the women's discus, Christina Obergföll silver in the javelin, and her compatriot, Steffi Nerius, the bronze in the same discipline.
For the men, Ralf Bartels won bronze in the shot-put while Michael Möllenbeck finished third in the discus.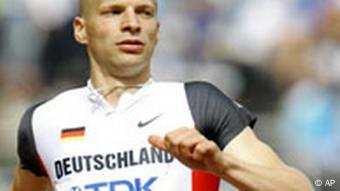 Germany's Tobias Unger crosses the line to win the fourth heat of the men's 200 meters at the World Athletics Championships in Helsinki
"We have no more track stars or jumpers - just throwing experts," concluded Bild.
Germany named its smallest-ever squad for the Helsinki world championships, with just a 55-athlete team coming from a nation with close to 82 million inhabitants.
After collecting four medals at the last world championships in Paris 2003 and two silver medals at the 2004 Olympic Games in Athens, Germany actually improved their medal tally in Finland, although not by much.
"I think we should look at the positives as almost all of our athletes have turned in season bests in Helsinki," said German Athletics Association (DLV) President Clemens Prokop. "The perspectives are more important than counting medals."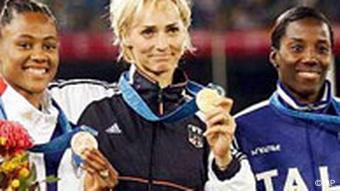 Germany's Heike Drechsler, center, stands with her gold medal for the women's long jump alongside silver medalist Fiona May, of Italy, right, and bronze medalist Marion Jones, of the United States, during award ceremonies at the Summer Olympics Friday, Sept. 29, 2000, at Olympic Stadium in Sydney
The emergence of Andre Niklaus, a surprise fourth in the men's decathlon, and Kirsten Bolm, fourth in the women's 100-meter hurdles, offer a small ray of hope for the future, but where are the successors to former greats such as Dieter Baumann or Heike Drechsler?
Drechsler won two Olympic Golds at long jump in the 1992 and 2000 Olympics while Baumann lifted 5000-meter gold at the Barcelona Olympics in 1992.
Doping scandals mar image
Despite those successes, German athletics in recent years has been tarnished by doping incidents, raising uncomfortable memories of the former communist East Germany's drug-abuse culture.
Late last year, German athletics coach Thomas Springstein was suspended by his club SC Magdeburg after a banned substance was found at his house during a state prosecutors' investigation into alleged drug use.
Springstein, the coach who trained Olympic 800-meter gold medal winner Nils Schumann and shamed double world sprint champion Katrin Krabbe, had been under investigation since August after the DLV reported him on suspicion of violating medicine laws and possible attempted bodily harm. Springstein was not alone in the developing scandal. His partner, the German sprinter Grit Breuer, the former 400-meter European champion, was also in trouble after missing a random drugs test.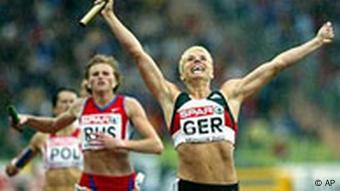 Germany's Grit Breuer crosses the finish line to help her team win the 4x400m relay at the European Athletics Championships in the Olympic Stadium in Munich, Germany, Sunday, Aug. 11, 2002
It is not the first time that the duo had been embroiled in a drugs related controversy. Breuer and her East German compatriot Krabbe, both coached by Springstein, were suspended for two years for using the banned steroid clenbuterol in 1992. Krabbe won the 100-meter and 200-meter world titles in 1991 while Breuer won the 400-meters European title in 1990.
Not just a German problem?
However, the media refused to see the medal drought Monday as a specifically German problem.
"Germany is not the only big nation falling behind in international athletics," declared the daily Berliner Morgenpost. "Great Britain, Italy and Spain are also concerned about the future."
But that's small consolation for the fallen powerhouse of world athletics.