Many streets and bridges in Germany are in dire need of a fix. It will cost several billions of euros to reconstruct and rebuild Germany's run-down infrastructure.
If the Christian Democrats' Bavarian sister party CSU had its way, that money would be coming from toll fees imposed on car drivers. But CSU party head Horst Seehofer wants to exempt German drivers from the payment and has pushed for a toll fee system that would only cash in on foreigners. German car drivers have to pay toll fees in other European countries as well, he argues.
Indeed, most of the EU states have introduced toll systems in one way or another. Basically there are two different systems: A vignette, which covers a period of time, or alternatively a toll for a certain stretch of road. Austria for instance makes use of the vignette - and charges about 80 euros ($107) per year. Italy and France generally use a pay-as-you-go system for certain toll roads - drivers only pay for the distance on a specific road.
Critics say taxes have not been managed properly
The autobahns and highways in many countries are privately owned roads - in contrast to Germany where only a handful of transport ways are run by commercial enterprises, such as the Warnow tunnel in Rostock in Germany's north. The private owners use tolls to directly invest in the upkeep of their roads.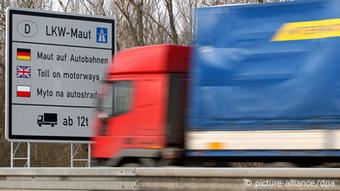 Germany introduced a toll system for trucks in 2005
In Germany, however, this concept has not caught on - it's still the German government that's in charge of maintaining streets, bridges, railroad tracks and waterways. German car owners pay taxes. Toll fee critics say those responsible for the infrastructure have failed at managing the funds.
"German car drivers pay about 53 billion euros ($71 billion) in taxes per year - petroleum tax and parts of the value added and motor vehicle tax. But only 19 billion euros go towards highway construction and preservation," said Otto Saalmann of the German ADAC automobile club. It's not the lack of funds but the lack of "political will to distribute funds appropriately."
That view is echoed by Anton Hofreiter, a politician of the Green Party and the chairman of the German parliament's transport committee. Some 20 billion euros were spent on transport infrastructure by the German federal government, the states and municipalities per year - that would translate to "wasting gigantic sums," he said.
Hofreiter also says imposing toll fees on car drivers is unfair. "The only model that could be implemented fairly quickly on a technical level is the vignette system. But this model is poor from an ecological viewpoint and also socially unjust," he said. Those who don't drive as often would pay as much as those who do; drivers of small cars would pay as much as those with big SUVs.
Is a toll system worth it?
But there is a system in Germany that allows for those differences. In 2005, Germany introduced a toll system for trucks which charges for the actual distances and also factors in the vehicles' size and how environmentally-friendly they are. So far, Germany has received 30 billion euros of revenue from that system.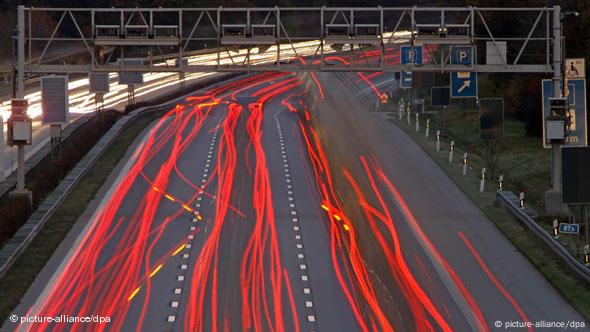 Germany's roads and bridges are in dire need of renovation, experts say
How much income could be derived from car toll fees? A report which was supported by toll service provider Ages says it would be four billion euros a year. If the toll were only imposed on foreign car drivers, it would allow for an income of 700 million euros. However, German ADAC automobile club's calculations paint a different picture: If only foreigners were billed, it would account to 225 million euros. "A toll would possibly cost more than what it could earn," Saalmann said.
There are also concerns in regards to the approach to only charge foreign visitors. Hofreiter of the Green Party says this is not in accordance with German and EU law.
Michael Schreckenberg, a traffic researcher at University of Duisburg-Essen, agrees. But he says there is no alternative to car toll fees. "Our road system, especially federal roads, has become run-down by now. Reconstruction was necessary some 10, 20 years ago, especially when it comes to bridges."
Almost half of Germany's bridges are in need of renovation, about 20 percent of the autobahn roads and 40 percent of the federal highways. There's no other way than to finance these costs through toll fees, the expert said.