"Xenophobia and racism are serious concerns for us," Germany's Deputy Foreign Minister Gernot Erler said before the Human Rights Council.
Since the introduction in 2007 of the UN's Universal Period Review program, set up by the Human Rights Council, each country's rights record is supposed to be checked once every four years.
Berlin came under criticism for problems related to the integration of immigrant children and the well-being of asylum seekers.
The German delegation to the review said steps were being taken, costing hundreds of millions of euros, to integrate immigrants, and that schools would no longer report undocumented children, making it easier for them to receive education.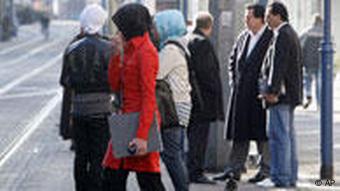 Germany says it's working to improve integration
About 18 percent of people living in Germany are first or second generation immigrants.
The salary gap between men and women was also raised at the review, but Erler said this was mostly a private sector issue.
Additionally, human rights groups said Germany had been too complacent during the US-led "war on terror" and let people pass through its territory en route to being tortured in other countries.
Erler also said that by 2020, Germany planned to dedicate 0.7 percent of its GDP to foreign development aid -- the target amount set by the UN for developed countries.
Human rights groups, however, said the report did not take the situation in Germany seriously enough. Amnesty International's UN expert said Silke Voss-Kyek the report had "nothing to do with reality in Germany."
She criticized the German government for not taking a tough enough line against police for misconduct.