Germany called on the international community on Monday to remain engaged in Afghanistan over the next decade even though NATO troops are scheduled to withdraw from the war-torn nation by 2014.
Around 1,000 delegates from 100 nations and international organizations have gathered in the former West German capital, Bonn, to discuss Afghanistan's future amid rising tensions between its estranged US and Pakistani allies as well as stalled efforts to bring the Taliban into talks aimed at a political settlement to the decade-long war.
German Foreign Minister Guido Westerwelle said Afghanistan would require "long-term engagement for the next decade beyond 2014."
"We say to the people of Afghanistan: We will not leave you alone, we will not abandon you," Westerwelle told the delegates at the conference.
As the 130,000 troops from the 49 nations participating in the International Security Assistance Force (ISAF) prepare to withdraw from Afghanistan in the ensuing years, the NATO-led coalition wants to avoid leaving behind a security vacuum.
"Our objective is a peaceful Afghanistan that will never again become a safe haven for international terrorism," the German foreign minister said.
German Chancellor Angela Merkel called on Afghanistan to do more to fight widespread corruption and the drug trade. Merkel said that while the international community can offer its support, "only the Afghans themselves can solve these problems."
'Mutual accountability'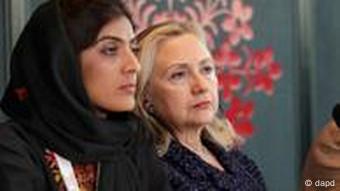 Clinton called for 'mutual accountability'
US Secretary of State Hillary Clinton announced Washington would release hundreds of millions of dollars in development aid for Afghanistan, which had been frozen in conjunction with the International Monetary Fund (IMF) and other partners after $1 billion (744 million euros) had gone missing from the reserves of Kabul Bank.
Clinton said that "the United States is prepared to stand with the Afghan people for the long haul." The US has more than 101,600 troops stationed in Afghanistan, which will be replaced by a smaller counterterrorism and training force over the next three years.
The secretary of state added that Afghans are expected to "lead in their own defense and strengthen an inclusive democracy rooted in the rule of law."
"Mutual accountability will be at the heart of the commitments we make to each other," Clinton said.
Regional tensions
Afghanistan's President Hamid Karzai said that while his nation is committed to the timetable for withdrawing all foreign troops by 2014, Afghanistan's "young democracy remains fragile," adding that his people do not want to rely on the generosity of the international community a day longer than is necessary.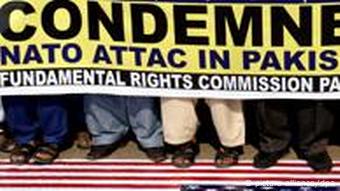 Pakistan boycotted the conference as relations with the US deteriorate
Karzai went on to say that Afghans will live in peace and security only when Afghanistan's neighbors help to stabilize the volatilities of the broader region.
"The wider regional dimensions of the terrorist threat have been neglected and the problem of sanctuaries outside Afghanistan has remained unaddressed," the Afghan president said.
The NATO-led coalition has criticized Afghanistan's nuclear-armed neighbor, Pakistan, for not doing enough to combat militants in its western tribal regions. Islamabad has faced accusations that its military and intelligence establishment supports militant groups that launch attacks inside Afghanistan, such as the Haqqani network.
Pakistan decided to boycott the conference after a US helicopter attack killed 24 Pakistani soldiers in November. US Secretary of State Clinton expressed regret over Pakistan's absence, saying Islamabad had a stake in a secure and stable Afghanistan.
Iran claimed on Sunday to have shot down a US drone along its eastern border with Afghanistan. Tehran, which faces growing pressure from the West over its nuclear program, said its response to violations by drones would not be limited to within Iran's borders.
Author: Spencer Kimball (AP, Reuters, dpa, dapd, AFP)
Editor: Holly Fox