Germany 2-0 Belgium, Tivoli
(Huth 2', Schüller 55')
Belgium might be an official partner of Germany and the Netherlands in the three countries' bid to host the 2027 World Cup - "Three Nations, One Goal" is the motto of the round-robin mini-tournament in which this latest defeat was their final fixture — but they're certainly receiving no favours on the pitch.
Having only just recovered from being battered in Brussels on Thursday (a 6-1 defeat at the hands of the Netherlands), they were taken apart in Aachen on Sunday. Not exactly a neighbourly welcome from the Germans.
Parity between the two teams lasted for just 91 seconds. It was 20 year-old Klara Bühl who set up the opener, driving into the Belgian penalty area before firing a low cross into Svenja Huth. The captain was beneath the Belgian radar as she sprinted goalward, unmarked and uncatchable by the time she met the ball. It was a simple task for her to fire her team in front.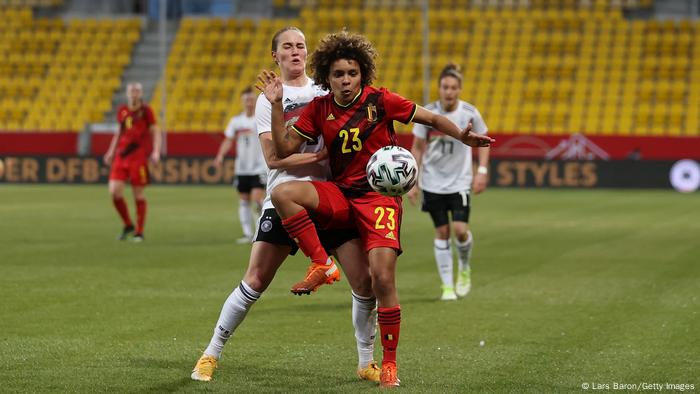 Belgium's Kassandra Missipo fends off Germany's Sydney Lohmann in the friendly in Aachen
'You need to keep a clean sheet'
By the end of the first half, Belgium had grown into the game, and Germany's lead began to look somewhat precarious. An apparent equalizer was disallowed for offside, much to the relief of goalkeeper Merle Frohms, whose position in the German net is under constant threat. "I tell the goalkeepers; 'If you want to keep your job, you need to keep a clean sheet,'" coach Voss-Tecklenburg had joked ahead of the match.
Five of the six goals Belgium conceded against the Netherlands came after the break, and Sunday's second half was nine minutes old when Germany found the net once more. Scorer of the first, Huth turned provider for the second, curling in a delightful cross which was smartly stroked home by Lea Schüller. Goalkeeper Justine Odeurs was caught off-guard by Schüller's first-time finish, and could only watch as the ball looped over her head and into the bottom corner.
Germany wasteful
It could, and from a German point of view should, still have been a lot clearer. Several chances went begging, both sides of the break. Time and again final passes flew past their targets, shooting opportunities went unused, incisive crosses were left unconverted. Svenja Huth, who herself had contributed an assist and a goal, grasped for explanations after full-time.
"We haven't been together as a group in quite a while," she said. "In the next few days, we'll have to work on keeping calm and making the right decisions, so that we find each other in the opposition box and not the feet of the opponent."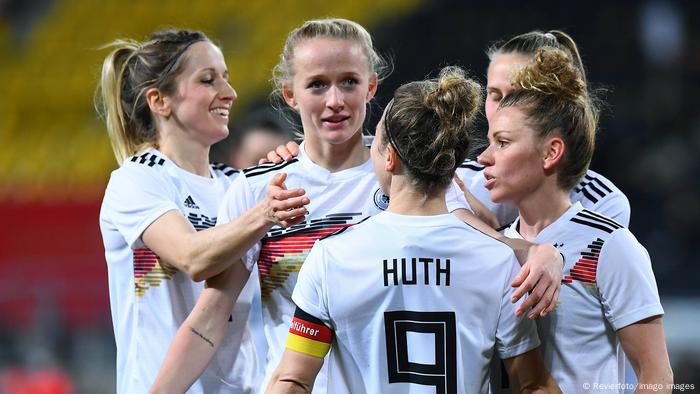 Germany celebrate Lea Schüller's strike, which secured the victory for the hosts
Ahead of Germany's next match, away against the Netherlands on Wednesday, their missing killer instinct is a worry. "Precision is an issue that's been dogging us for a while," said Voss-Tecklenburg. "But it's something that you can work on, something we have to work on, because we're coming up against opponents that won't give us so many chances."
The coach, and her team, have long been saying that what they really need are tough opponents. After rounding out their European qualification campaign against Montenegro, Greece, and Ireland, Germany's women have frequently emphasized that they'd quite like to be challenged, to face teams that have the potential to trouble them at major tournaments, rather than ones that don't even qualify.
Sunday's clash against Belgium was a stiffer test than they've faced for a while. But the Netherlands pose a challenge of a different order, and Wednesday's fixture will be the true measure of this team.